Next Generation Wireless Arrives On Campus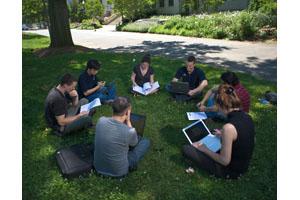 Over the course of the past several years, daily usage of AU's wireless network has grown to more than 3,000 concurrent users.
The Office of Information Technology (OIT) has begun implementing a redesigned wireless network infrastructure, named eaglesecure, to support higher connection speeds, provide more bandwidth, safeguard your data as it traverses the network, and offer better coverage. The new wireless network is better able to handle the growing needs of the university community. 
Implementation of eaglesecure is a multiphased project, which OIT hopes to complete by fall 2011. To date, the state of the art eaglesecure wireless network is already available in the following buildings:
4620 Wisconsin Avenue
Brandywine building
School of International Service building
Tenley Campus buildings

The new wireless network will be available in the Residence Halls on Main Campus by the end of the fall semester. 
To take advantage of the new wireless network, please refer to the configuration instructions appropriate for your operating system online.
Important: Please note that only network cards supporting 802.11a/n will be able to connect to eaglesecure at this time; therefore, both the old eaglenet and the new eaglesecure wireless networks will be available in parallel until the project is completed throughout the entire University. When the project is complete, eaglenet will be discontinued.

The new wireless network architecture is provided by Aruba Networks and uses the latest 802.11n standard with 100–150 megabit per second throughput, which is significantly faster than the current wireless network. This new architecture takes advantage of an industry best practice distributed platform to greatly reduce the risk of large scale system failure.
While the current eaglenet wireless infrastructure uses a Distributed Antenna System in conjunction with wireless Access Points (APs) across campus, the new eaglesecure network will use a strictly AP-based system providing better WiFi coverage, and easier monitoring and management.

Once the eaglesecure network has been fully implemented, wireless network speed, coverage, and availability will be greatly improved across the entire AU campus. OIT will conduct site surveys in every building before and after implementing the new wireless to ensure the optimum location of the APs, and the best possible signal coverage and user experience.
If you have any questions about this initiative, or you are in an area where eaglesecure is available and would like some assistance connecting to the new network, contact the IT Help Desk at 202-885-2550, e-mail helpdesk@american.edu, or instant messenger at AskAmericanUHelp.


>>Back to the Newsletter