Preview the New MyAU Portal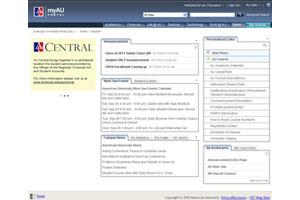 AU continues to mature our Web presence. While our current portal is a transaction-rich platform, it is based on older technology that is difficult to extend and build upon, and it lacks some of the contemporary aspects that our students, faculty, and staff need to use it as a true collaborative platform. The Office of Information Technology has been working in collaboration with the campus community to architect a new portal using Datatel's ActiveCampusPortal solution, which is based on an
open Microsoft SharePoint environment.
We expect to roll out a "beta" version of the new portal to our campus community through a soft launch, in phases beginning toward the end of the 2010 calendar year. The new portal platform will enable collaboration, offer better design and a flexible architecture, and allow targeted messaging and notifications for individuals as well as specific sub groups.
Highlights of the new portal include:

Look and feel: The look and feel of the new portal is consistent with AU's Web branding.
Ease of use: Information and resources are accessed through intuitive navigation and organized by category and function rather than by office.
Personalized and Customized: Web content and applications are tailored to the user's constituency and University roles.
Integration with other AU systems: RSS feeds to AU news and events feeds and direct links to related Web sites on www.american.edu.
Robust Technology Infrastructure: Offers load balanced servers and a high availability infrastructure.