Graduate Admissions Dashboards Launched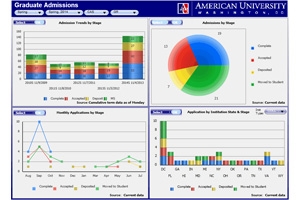 The Office of Information Technology (OIT) is pleased to have rolled out a next-generation Business Intelligence platform that allows business users across the university to perform graduate student admission research and discovery via a visual interface.
Using these tools, graduate admissions staff can independently devise and create their own reports and disseminate information among stakeholders. The information product line includes a wide variety of application products, from executive-level dashboards to highly interactive agile analyses, to help track admissions progress and provide insight into the admission dynamics of each graduate school.
As part of this project, a set of common analytics was developed that provide a balanced set of metrics for AU leadership with the right level of management reporting for all units and schools. In addition, a model that is structured to support Business Intelligence needs was developed including data aggregations, predictive analytics and historical snapshots, as well as a data model that supports ad-hoc queries for power users in the Graduate Admissions area.
An executive dashboard was developed to support future Graduate Admissions reporting requirements. Additionally, the framework and template produced by this project will be used as a model for other AU areas of business, such as Human Resources, student records, Development and Alumni Relations, Housing, Finance, and more.
For more information, please contact the IT Help Desk at 202-885-2550, e-mail helpdesk@american.edu, or instant messenger at AskAmericanUHelp.