Archive Solution Improves
E-mail Performance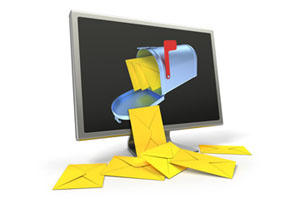 Do you file and retain the majority of your e-mail messages that you send and receive? If so, your mail file is likely above the recommended maximum storage size, which can slow down the performance of your e-mail software and cause problems for the server. The Office of Information Technology is proud to announce the introduction of a new Lotus Notes server archiving system.
The system works by utilizing scheduled archiving, which will automatically run on our mail servers.  Documents that have not been accessed in the past two years will be identified, and then moved from your active mail file into an archive mail file on a dedicated archive server. This helps to keep your active mail file smaller, which improves the overall health and efficacy of the AU e-mail system.
The archiving solution has been thoroughly tested by OIT staff over the past year, and is ready to be implemented. Automatic archiving will greatly reduce space in active mail files, which will:
Alleviate problems associated with large mail files, such as disk space usage and server instability.

Provide a better user experience for archiving, which will be a seamless and automatic process. You can access your mail archive from anywhere through the Lotus Notes client or webmail.

Keep primary mail files at a smaller size to improve performance; faster primary mail servers will host active mail files, while secondary servers will host archive mail files.

Facilitate consistent data backup success; smaller mail files will ensure faster, more efficient backup times.

The archiving system will be implemented using a phased approach, beginning with American University staff. Server performance is expected to improve exponentially, as more and more users are enabled.
For questions about Lotus Notes server archiving, or if you would like to be an early participant, please contact the IT Help Desk at x2550, helpdesk@american.edu, or instant message AskAmericanUHelp.