CIO Update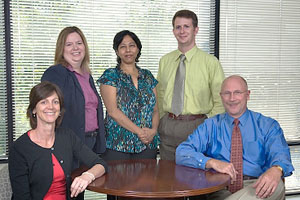 The Office of Information Technology has just come through an extensive process of budget preparation and justification. We have received approval for an exciting two year portfolio of initiatives to address campus needs for new technology infrastructure, applications, and services. The demand for new technology continues to grow at a rapid pace, while we face the real constraints of resources and budget.
Examples of proposed initiatives that will be funded and implemented within the Office of Information Technology include: support for new academic technologies such as high performance computing, virtual computing, grants reporting and a pre-award grants processing system, a new graduate admissions system, and improved collaboration capability through Microsoft SharePoint.
Other academic technology initiatives will receive fiscal support through the University Library, the Center of Teaching, Research and Learning, and the Facilities budgets, including better capabilities for smart classrooms and more power outlets, and also a program to improve digital literacy.
Additional enterprise technology initiatives in the OIT portfolio include:
The new virtual student services initiative that builds on the one-stop AU Central program (e.g., eAdvising, and other improvements to student services on campus such as billing and financial aid);

A new performance management system for staff including a capability to facilitate professional development and training;

A document management and imaging system to improve work flows and reduce paper usage;

Business intelligence and dashboards to address the need for performance metrics and improved analytics;

An Alumni community development system;

A replacement for the Cisco Clean Access network access control (NAC) system;

Continued support for life cycle updates and systems improvements;

And finally, meeting the growing demand for Internet bandwidth and services.

At present, there are many new systems and services that are being rolled out now or will be introduced by this summer. This newsletter provides a good overview of these services, and addresses our new wireless network, the new myAU portal, the upgraded Datatel UI, the new campus NAC, integrated messaging for employees and offices on campus, a new patch management tool for campus desktops, the support for mobile devices using Lotus Notes Traveler, the availability of Microsoft Office 2010, the new Degree Audit system, and a new approach to archiving e-mail. In addition, this issue of the newsletter offers tips to avoid being lured by cyber criminals, and begins a "Bust a Myth" section which will continue in future editions to address any misplaced beliefs or rumors on campus.
Finally, I would like to take this opportunity to highlight the appointment of Christopher Gehring as the Senior Director of Technology Operations in the Office of Information Technology, rounding out my senior management team. Together, it is our pleasure to serve you and I look forward to another successful semester here at AU.

With warm regards,
Dave Swartz
Chief Information Officer
dswartz@american.edu