Bust an IT Myth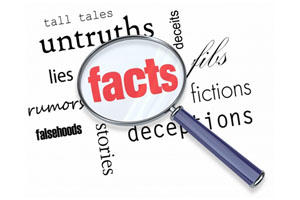 Have you ever heard something from a colleague about information technology at American University that made you question whether it was true? When you did, did you believe it? Recently several faculty, staff, and students shared with us some of the myths that they had been told, so we thought we would take this opportunity to "bust the myths".



Myth #1: "Don't use AU's e-mail system, because they keep a copy of every e-mail you send or receive."
Not true. AU does not have a journaling system; therefore, you have the power as an end user to delete your incoming or sent messages. AU is introducing a new archiving system that will move any messages that you have not accessed in the past two years to an archive database. This will result in performance gains on the production servers. Messages that you choose to delete from your mail file will never be archived. Additionally, you will retain the right to delete messages from within your archive at any time.



Myth #2: "AU's new workstation lifecycle policy is going to force us to use machines that are six years old."
Not true. The workstation lifecycle process evaluates the workstation replacement interval for each individual faculty or staff member based on their needs. Some may get new workstations after two years if they are heavy resource users; others that just use word processing and the Web may be able to go four years.



Myth #3: "In order to access your AU e-mail on a smartphone, you have to be moved to the AUMAIL4 IMAP server."
Not true. You can use Lotus Traveler to connect directly to your AU e-mail, calendar, and contacts, if you have an Android, Apple iPhone, iPad, iPod Touch, Microsoft Windows Mobile, or Nokia Symbian device. Instructions are on the OIT website.



Myth #4: "AU spent all of this money on a new wireless network that I can't use."
Not true. Eaglesecure is currently only broadcasting to 802.11a or 802.11n devices at the 5 GHz radio frequency in many of the larger campus buildings; however, we are working to decommission the old eaglenet wireless network over the next few months. Once that happens, all 802.11 a/b/g/n devices will be able to connect to eaglesecure on either the 2.4 of 5 GHz frequencies.
Do you know of a myth that we haven't included in our list? Please send it to us at helpdesk@american.edu, so we can continue our efforts to "bust" those IT myths.