Eaglesecure Transforms AU's Wireless Capacity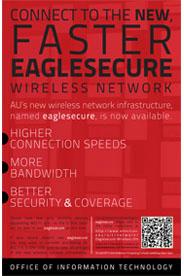 With AU's wireless network usage growing to more than 3,000 concurrent users per day, the Office of Information Technology is pleased to announce the new eaglesecure wireless network is now available in all campus buildings. While the university transitions to this new network, we encourage you to try to connect from various campus buildings.
If you find that you are not able to connect from some of the larger campus buildings, you may have a network card that is not transmitting at the same frequency as eaglesecure. Once the outdoor areas are converted to the new network by the end of the Spring semester, we will modify the configuration to support multiple frequencies.
If you have not already connected, you will want to follow the configuration instructions appropriate for your operating system to take advantage of the many benefits of eaglesecure, such as:
supporting higher connection speeds
providing more bandwidth
safeguarding your data as it traverses the network
offering more comprehensive coverage to better handle the growing needs of the university community 
The new wireless network architecture is provided by Aruba Networks and uses the latest 802.11n standard with 100–150 megabit per second throughput, which is significantly faster than the current wireless network. This new architecture takes advantage of an industry best practice distributed platform to greatly reduce the risk of large scale system failure.
While the original eaglenet wireless infrastructure used a Distributed Antenna System in conjunction with wireless Access Points across campus, the new eaglesecure network uses a strictly Access Point-based system providing better WiFi coverage, as well as easier monitoring and management.
If you have any questions about this initiative or would like some assistance connecting to the new network, contact the IT Help Desk at 202-885-2550, e-mail helpdesk@american.edu, or instant messenger at AskAmericanUHelp.


>>Back to the Newsletter