Get Your Messages in One Place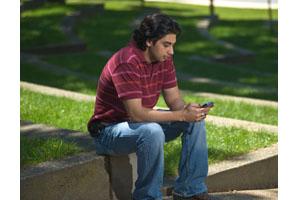 Imagine for a moment one location in which all of your e-mail, voice mail messages, and faxes reside. Imagine listening to your voice mail messages on your computer using a headset or the speakers, or saving a voice mail by dragging and dropping it into a folder on your computer. This is unified messaging and replaces the current university voice mail system.
The Office of Information Technology is in the final stages of implementing the new voice mail system across the various campuses. Only faculty and staff on Main Campus with telephone numbers within the ranges of 2500 - 3999 and 6000 - 9999 remain. Those individuals will be converted in early April. Look out for more information and announcements about the migration plan.
The new unified messaging system allows you to send, receive, store, and listen to your voice mail messages on your computer or SmartPhone, in addition to your office phone. It replaces AU's twenty-year-old voice mail system while providing the same basic functionality of answering your incoming calls and recording messages, and includes a wide range of additional features:

Voice mail messages will be available by phone and sent to your e-mail inbox as an e-mail message with an attachment to open and play.
When you call into the system, you will hear how many messages you have in your voice mail and e-mail inbox. Then, you can request that the system read them back to you.
Deleting a voice mail or e-mail message from your e-mail will delete it from your voice mail, and vice versa.
Receive faxes in your e-mail, anywhere you have access to it, and only print those which must be on paper.
Training and documentation are available for the new system. You can also continue to use your telephone to check your voice mail messages if you choose. The commands to manage your new voice mail messages by telephone will be different, though similar to most mobile phone voice mail systems (i.e. 7 to delete and 9 to save).
After your telephone has been moved to the new voice mail system, you will need to:

Log in to set a new password on the unified messaging system, which will allow access to both your voice mail and e-mail messages.
Record a new outgoing message and recorded name.
Please contact the IT Help Desk with questions at x2550, helpdesk@american.edu, or AskAmericanUHelp on instant messaging.