Transition to the New MyAU Portal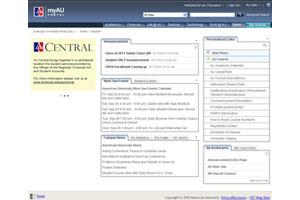 The Office of Information Technology recently took the next step in the gradual transition to the new myAU portal. The new portal offers more intuitive navigation, easier access to information and tools related specifically to your role at AU, and continued access to all of your existing portal links.
Effective March 21, 2011, users that visit the my.american.edu portal will be presented with the option to go to either the new portal (myau.american.edu) or the existing portal (my.american.edu). In mid-April, we will take the final step of redirecting all access from the existing my.american.edu portal to the new myau.american.edu portal. The interim step provides another opportunity for you to explore the new portal and discover its features and changes, before the final switch is made.
We encourage you to begin accessing the new portal, as you will be able to utilize many of its new features, including updated and reorganized information pages, announcements targeted for you in your role as faculty, student or staff. By using the new portal, you will be able to familiarize yourself with the locations of all of the links that you regularly use.
Also, be sure to take note of the Personalized Links and Search box on the right side of your main portal homepage. Using this feature can simplify your search for links that you are trying to locate. Simply type in a keyword or word that may be in the title of the link you are trying to find, and you will be able to view a list of relevant links.
If you encounter any issues, please contact the Help Desk at (202) 885-2550, e-mail helpdesk@american.edu, or instant message AskAmericanUHelp. Please continue to provide feedback on the new portal via the Feedback link. We invite your suggestions on ways to improve the user experience.