Meet Our New Senior Director of Technology Operations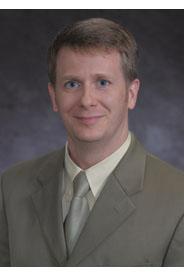 On February 23, 2010, Chief Information Officer Dave Swartz released the following announcement regarding the appointment of the Senior Director of Technology Operations in the Office of Information Technology:
I am pleased to announce the appointment of Christopher Gehring as the Senior Director of Technology Operations within the Office of Information Technology (OIT). Many of you may already know Chris, as he came to American University in 2008 as the Director of Systems Engineering Services. He has also been serving as the Acting Senior Director of Technology Operations since last April.
In his tenure with AU, Chris has led a transformation of systems services changing the way OIT procures, deploys, and manages server infrastructure. Nearly every server platform that was online at AU upon his arrival has been replaced and migrated into a virtual infrastructure, providing fault tolerance and high availability to all tiers of our server platforms as well as moving us to a green data center through a significant reduction in power consumption per server. Chris has also been instrumental in the deployment of our remote business continuity location, and a replicated storage area network solution that ties them all together.
In his new role, Chris will not only continue to oversee the Systems Engineering Services team that manages our production server environment, but will expand his role to cover Business Continuity, Network Operations, Telecommunications, and IT Asset Management.
Before coming to American University in 2008, Chris served as a Principal Systems Engineer at CACI International, Inc., a government contracting firm based in Arlington, VA. There he worked to drive a model of consolidated computing, centralizing a distributed IT model spanning more than a hundred sites around the globe. His core focus was around creating a standardized computing architecture to drive performance, availability, and business continuity. Chris holds the Masters degree from George Mason University in Telecommunications and the Bachelor of Science degree from Shenandoah University in Computer Information Systems, Cum Laude.
I would like to thank the faculty and other members of the community who assisted in this important selection. Please join me in congratulating Chris on his new role.