Teresa Flannery Vice President for Communication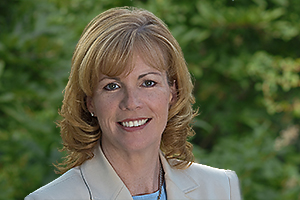 Dr. Teresa (Terry) Flannery has worked in higher education marketing roles for two decades. She is American University's first vice president for communication. She established a full communications and marketing organization and program, beginning with market research to inform the brand strategy. Flannery's team developed the American Wonk campaign to establish AU's distinctive brand position, raise awareness, and build support for the university's major goals.
Flannery's responsibilities also include management of publications, media and public relations, Web communications, and digital media. In addition, she leads a campus-wide committee that completely redesigned the university's award winning Web site and robust social media presence, and is currently tackling the challenge of mobile access. Since 2008, AU has earned five Tellys, several CASE awards, and top recognition from eduStyle, the University College Design, and the American Association of University Photographers.
Prior to her appointment at AU, Flannery built a nationally recognized higher education marketing and communications program at the University of Maryland as assistant vice president. She led the team that created the Fear the Turtle campaign, which successfully elevated the profile of the university internationally, enhanced perceptions of quality, and improved the engagement of students, alumni, donors, and partners. She also held positions in admissions and student affairs at Maryland and was affiliate assistant professor in the College of Education.
With expertise in marketing, branding, marketing research, and assessment, Flannery serves in leadership roles in related international professional associations. For the Council for the Advancement and Support of Education (CASE), she serves as a member of the Board of Trustees and chairs the Communications Commission; previously, she was chair of the CASE Institute for Senior Communications and Marketing Professionals and chair of the Institute for Integrated Marketing and Branding. She also served as chair of the American Marketing Association's Symposium for the Marketing of Higher Education, an advisor to the American Council on Education Marketing Task Force, and a frequent speaker and consultant for higher education organizations.
Flannery holds a bachelor's degree in English and a master's degree and Ph.D. in College Student Personnel Administration, all from the University of Maryland.