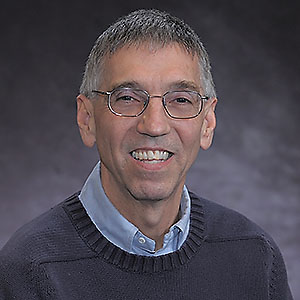 Anthony Riley
Professor
Department of Psychology
Dr. Riley received his undergraduate training at the University of North Carolina and obtained his PhD from the University of Washington. He did a post-doctoral fellowship in pharmacology at Dalhousie University in Canada. He joined the faculty at American University in 1976. Dr. Riley is a member of a number of organizations, including Society for Neurosciences, Behavioral Pharmacology Society, College on the Problems of Drug Dependence, Behavioral Toxicology Society and the Society for the Stimulus Properties of Drugs and has been on the editorial board of a number of toxicology and neuroscience journals. Dr. Riley's research interests include animal models of drug abuse, drug interactions, opioid receptor pharmacology, behavioral toxicology, immunology, chronic drug administration and the effects of prenatal cocaine exposure.

Degrees

PhD, Psychology, University of Washington
Loading ...

OFFICE

CAS - Psychology
Asbury - 319
FOR THE MEDIA

To request an interview for a
news story, call AU Communications
at 202-885-5950 or submit a request.
---
Partnerships & Affiliations
Veterans Administration (Washington)

1982 - Present

National Institute on Drug Abuse

1985 - Present

Johns Hopkins University

2002 - Present
Teaching
Summer 2015

PSYC-240 Drugs and Behavior

PSYC-899 Doctoral Dissertation
Fall 2015

PSYC-240 Drugs and Behavior

PSYC-497 Topics in Psychology: The Biology of Addiction

PSYC-899 Doctoral Dissertation
Spring 2016

PSYC-115 Psychology as Natural Science

PSYC-898 Doctoral Continuing Enrollment

PSYC-899 Doctoral Dissertation
Scholarly, Creative & Professional Activities
Research Interests
Animal models of drug abuse, drug interactions, opioid receptor pharmacology, behavioral toxicology, immunology, chronic drug administration and the effects of prenatal cocaine exposure.
Honors, Awards, and Fellowships
University Award for Outstanding Teaching (1981)
Scholar/Teacher of the Year (2000)
D.C. Professor of the Year (2000)
Presidential Research Fellow in 2007
Professional Presentations
See attached vita.
Grants and Sponsored Research
Mediation of cocaine-induced taste aversions: Transgenic analysis with homozygous and heterozygous knock-out mice. (Contract: National Institutes on Drug Abuse IRP, NIH/DHHS, Molecular Neurobiology Branch)
Effects of norBNI on cocaine withdrawal and alcohol intake: Assessments of kappa opioid mediation. (Contract: Drug Design and Synthesis Section, Chemical Biology Research Branch, National Institute on Drug Abuse and National Institute on Alcohol Abuse and Alcoholism)
Cocaine escalation under chronic access conditions: A comparison of F344 and LEW rat strains. (Contract: Walter Reed Army Institute of Research)
Professional Services
Editorial Board – Pharmacology, Biochemistry and Behavior
President elect – Society for the Stimulus Properties of Drugs
AU Expert
Area of Expertise: Animal models of drug abuse; biology of reward; conditioned taste aversion learning

Additional Information:  Anthony Riley has been involved in the teaching of a variety of classes, including Psychology as a Natural Science, Drugs and Behavior, Neuropharmacology, and Evolution of Behavior. Riley also teaches Neuroscience Seminar, in which upper-level undergraduate and graduate students focus on current issues in the neurosciences; e.g., viral and bacterial infections and biochemical bases of therapeutics. For the past 35 years, he has been involved in scholarly research, focusing primarily on animal models of drug addiction. Riley has published more than 170 journal articles and book chapters and presented more than 325 papers at national and international research conferences. His laboratory has received funding from the National Science Foundation, the National Institute on Drug Abuse, and the MacArthur Foundation.

Media Relations
To request an interview please call AU Media Relations at 202-885-5950 or submit an interview request form.