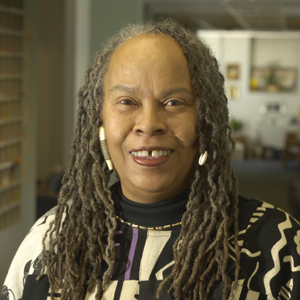 Bette Dickerson
Associate Professor
Department of Sociology
Bette J. Dickerson has served as Chair of American University's Department of Sociology, Director of AU Women's and Gender Studies Program and Chair of its University Diversity Committee. She is past President of the Association of Black Sociologists and recipient of its A.Wade Smith Award. She is faculty adviser for AU's Alternative Break: South Africa and was co-principal investigator of its Ronald E. McNair Postbaccalaureate Achievement Program. Most recently, she co-edited Intersectional Analyses of the Family for the 21st Century issue of the International Journal of Sociology of the Family, conducted research for a project on family welfare policy sponsored by Okayama Prefectural University, Japan, and on elder Black women and sexuality for the Ford Foundation's Black and Latina/ Sexualities Project. Her research interests include public history and collective memory, the socio-historical construction of African Diasporan race/gender identities, Black feminist/womanist theories.

Degrees

PhD, Sociology, Washington State University
MEd, Special Education, University of Louisville
BA, Sociology (emphasis on Social Work), Morehead State University
Loading ...

OFFICE

CAS - Sociology
Battelle Tompkins - T-20
Tu 3:30p-5:30p
Th 1:00p-2:00p + 3:30p-6:30p
FOR THE MEDIA

To request an interview for a
news story, call AU Communications
at 202-885-5950 or submit a request.
---
Partnerships & Affiliations
Association of Black Sociologists

President (1999-2000); Acting Executive Director (1996), President-Elect and Chair of Program Committee (1998-99), Conference Local Arrangements Committee (1995-96); Member, Executive Committee (1995-96); Member, History and Archives Committee (2003-2008)

Sociologists for Women in Society

Sister-to-Sister Task Force (2002-2006); Awards Committee (2006-07)

American Sociological Association

Executive Council member, ASA Section on Racial and Ethnic Minorities (1996-98); Member, Task Force on the Committee on Committees and the Committee on Nominations (1999-2001); Member, the Task Force on "ASA Statement on Race" (2000-02)
Southern Sociological Society

Member, Cultural Race and Ethnic Minorities Committee (2003-05)

Washington Regional Task Force on Racism

Member (2002-2007)

Project South Institute for the Elimination of Poverty & Genocide

Member, Washington Book Forums Planning Committee, (1998-2007)
Scholarly, Creative & Professional Activities
Research Interests
Black Feminist/Womanist theoretical perspectives and research methods; socio-historical construction of race/ethnic identities in the African Diaspora; collective memory and public history in the United States; elder Black women and sexuality.
Honors, Awards, and Fellowships
Summer Training on African American Aging Research, University of Michigan and National Institute on Aging
Alice Paul Award, AU Women's Initiative and the Women and Politics Institute
Professor of the Year Award, AU Student Confederation
Special Recognition Faculty Award, AU Multicultural Affairs and the International Student Services
A. Wade Smith Award for Teaching, Mentoring and Service, Association of Black Sociologists
Chesapeake Regional Scholar in African American Studies, Carter G. Woodson Institute, University of Virginia
Outstanding Accomplishments in Education and Administration Award, The District of Columbia Council of Administrative Women in Education
Women in Leadership Fellow, CORO Foundation. George Edmund Haynes Fellow, National Urban League, Inc.
Professional Presentations
   
 "Single Mothering in Poverty: Some Black Feminist Considerations", invited opening keynote panel of the Japanese Society for the Study of Social Welfare, Fall 2008. Read more about the conference in this news story.
   
"Looking Back, Moving Forward: Overcoming Obstacles of Race, Gender and Region" keynote address, Morehead State University, 2004.
   
"How Did We Get Here and Where Are We Going: Black Feminists and the Continuing Process of Speaking Truth to Power," Hunter College, 2002.
   
"American Unity: Was September 11th a Milestone in American Race Relations?", Bureau of Information, U.S. Department of State, 2002.
   
"Multiculturalism: American Identity after 9/11," Fulbright Foreign Student Washington Seminar, U.S. Department of State and the Institute of International Education, 2002.
Selected Publications
Co-editor, Intersectional/Analyses of the Family for the 21st Century special issue of the International Journal of Sociology of the Family. 34: 2 (Autumn 2008).
"Self-Segregation and Friendship Formation among Undergraduate Students" in African Americans and Whites: Changing Relationships on College Campuses. University Press of America 2006.
"'Blooming in the Noise of the Whirlwind': The Roots of the Association of Black Sociologists" in Diverse Histories of American Sociology. Boston, MA: Brill 2005.
"Do Undergraduate Students Self-Segregate?" in The Quality and Quantity of Contact. Lanham, MD: University Press of America, 2002.
Co-editor, The Impact of the Criminal Justice System on Women & Their Families special issue of the CRAWW Journal, Washington, D.C.: Delta Research and Educational Foundation, 2001.
Editor, African American Single Mothers: Understanding Their Lives and Families. Thousands Oaks, CA: Sage Publications, 1995.
Grants and Sponsored Research
Co-principal investigator, AU's Ronald E. McNair Postbaccalaureate Achievement Program, U.S. Dept. of Education, 1999-2007.
Co-principal investigator, AU's Multiculturalism in the U.S. Program, Council for International Educational Exchanges, summers 1993-95.