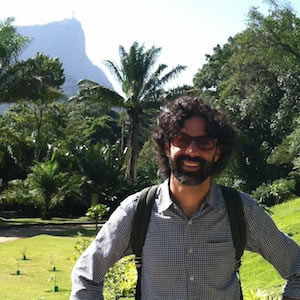 Evan Berry
Associate Professor
Department of Philosophy and Religion
Evan Berry is Associate Professor of Philosophy and Religion at American University and Co-Director of the Ethics, Peace, and Global Affairs master's program. His research examines the intersections among religion, globalization, and climate change, and seeks to advance knowledge about the role of religious actors in contemporary environmental contestations. Beginning with the premise that religion and religious ideas serve to locate human beings in the natural order, his scholarship concentrates on the cultural particularities of environmental ethics—the ways that different religious perspectives generate divergent ecological orientations. Pursuing these questions through both ethnographic research and philosophical reflection, his current work includes a study of religious civil society groups actively engaged with the challenge of climate change. His book, Devoted to Nature: The Religious Roots of American Environmentalism, was recently published by the University of California Press.

Degrees

PhD, Religious Studies, University of California Santa Barbara; MA Religious Studies, University of California Santa Barbara; BA, Religion, The Colorado College
Loading ...

OFFICE

CAS - Philosophy and Religion
Battelle Tompkins - 111
On sabbatical
FOR THE MEDIA

To request an interview for a
news story, call AU Communications
at 202-885-5950 or submit a request.
---
Scholarly, Creative & Professional Activities
Research Interests
Professor Berry's scholarship focuses on the interplay between religion and nature in modern western culture. Trained in both the sociology of religion and the philosophy of religion, his most recent research, part of an interdisciplinary collaboration called Ecotopia Revisited, was an ethnographic study of intentional communities in the Pacific Northwest. Such communities give expression to the rich connectivity between American spiritualities and ecological yearnings for a green future. This religious substratum beneath American ideas about and practices towards nature provides the basis for his ongoing academic research.
Selected Publications
"Religion, Nature and Daily Life," in Religion in the Practice of Daily Life, Richard Hecht and Vincent Biondo, eds. (Greenwood) 2009
"Great Chain of Being" and "Puget Sound," in The Encyclopedia of American Environmental History, Kathleen Brosnan, ed. (Facts on File) 2009
"Epilogue," Death and Religion in a Changing World, K. Garces-Foley, ed. (M.E. Sharpe) 2005 
"Wilson, Edward O." and "Religion and Environmental Concern: The Challenge for Social Science" (with James Proctor), in The Encyclopedia of Religion and Nature, Bron Taylor, ed. (New York: Continuum Press) 2005
Lectures
"Seeking and Dwelling in Ecotopia: Spirituality and Community in the Pacific Northwest," Understanding Sustainability: Perspectives from the Humanities, May 2009
"The Road to Nature: Automobile Pilgrimage and Nature Spirituality," American Academy of Religion Annual Meeting, November 2007
"Sacred Histories and Prophetic Spaces: Civil Religion in Museums of the American West," American Academy of Religion Annual Meeting, November 2006
"Origins and Adaptations of Secularization Theory in the American Context" (with Masen Uliss), International Society for Intellectual History Conference, April 2005
"Historical Issues in Religion and Ecology," American Academy of Religion Annual Meeting, November 2004
"Interrogating the Relationship among Religiosity, Spirituality, and Environmentalism," Association for the Sociology of Religion Annual Meeting, August  2004
"Dimensions of the Sacred: Secular Worldviews, Place, and Environmentalism," Religious Studies: What's the Point? Lancaster, U.K., December 2003
"Interpreting Environmentalist Usage of 'the Other'," American Academy of Religion, Western Regional Meeting, March 2003
Honors, Awards, and Fellowships
Postdoctoral Research Associate, Lewis and Clark College, 2008
Mendell Endowed Graduate Fellowship, Capps Center for the Study of Religion and Public Life, 2007
Erasmus Institute Graduate Fellowship, 2005
AU Expert
Area of Expertise: Environmental ethics, religion and environmental issues, environmental issues and popular culture, religion in American public life

Additional Information: Evan Berry is assistant professor of philosophy and religion at American University and co-director of the Ethics, Peace, and Global Affairs master's program. His research focuses on ideas of nature in modern Western culture, particularly the religious roots of contemporary environmental discourse. Trained in both social scientific and theoretical methodologies, his current scholarship includes an ethnographic study of intentional communities in the Pacific Northwest, a critique of the philosophical assumptions of climate-change ethics, and a book project on the role of religious language in the birth of the American environmental movement.
 
Media Relations
To request an interview please call AU Media Relations at 202-885-5950 or submit an interview request form.