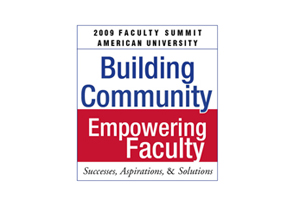 The 2009 Faculty Summit Session Reports are available on the my.american portal under academics for faculty.
Also available is the Provost Charge (PDF) from the 2009 Faculty Summit, presented on February 21 by Provost Bass.
---
Dear Colleagues,
On February 21, I am hosting a faculty summit entitled "Building Community, Empowering Faculty: Successes, Aspirations, and Solutions." The faculty summit, is a forward-looking, agenda-setting, solution-oriented event designed to bring AU faculty together to learn from our successes and to build upon our strengths. This year's theme is designed to address opportunities in implementing the Strategic Plan. Thus, we will look across our units and think collectively about our mutual aspirations, strategically about addressing our challenges, and openly about the lessons we can learn from each other.
I look forward to seeing each of you at the summit.
SCOTT A. BASS
PROVOST
---
Raffle
This year's Faculty summit will also feature door prizes,including Research Faculty Funds,bookstore gift certificates,and Amazon's popular Kindle e-book reader