Education
Digital Audio Production Connects with Pros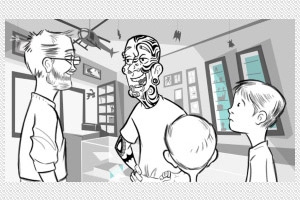 An Olympic gold medalist turns his sights to mixed martial arts; an animated trip to the comic book store; and the issues of land development in Washington, D.C. These are just some of projects that Digital Audio Production Seminar (ATEC-604) will tackle this semester. The class gives students an advanced look at how to approach projects using software synthesizers in their own professional work. At least part of that will be through scoring for films.
"I thought it was important that the students in the class get a real sense of what it's like to work on a project with a deadline," said the class instructor, Paul Oehlers. "The additional challenge with a film score is they have to write music that fits with what the filmmaker wants."
For two of the projects, Oehlers contacted some of his friends in Los Angeles. Marty Sader, the director of the award-winning film Most High, sent his latest film, With Ishii in Tokyo, the first from his new production company, One Note Mule: www.facebook.com/OneNoteMule. 
The documentary follows Satoshi Ishii, a gold medalist in judo at the 2008 Olympic Games, as he pursues his new career in mixed martial arts. Sader met him while preparing for his upcoming film, Monday Nights at Seven starring Edward James Olmos. Sader is hoping that the project will gain enough interest through Facebook likes to find a distribution outlet. "Getting a project like this picked up for distribution would be a great opportunity for an emerging composer," Sader said.
Oehlers also reached out to Joshua Taback, a director on the Disney XD show Randy Cunningham: 9th Grade Ninja. A veteran animator on shows such as The Simpsons and Family Guy, Taback has been branching out recently to develop his own cartoons. This cartoon is a short six-minute film based on his college roommate and his kids.
For Taback, the opportunity was a no-brainer. "I've been moving toward working with students in the last few years. I even have a website, drawniversity, that shows people the basics of drawing and animation, so when Oehlers asked me to do this, I jumped at the chance."
ATEC-604 is part of the graduate program in audio technology at American University. For more information, visit www.american.edu/cas/performing-arts/audio-tech.cfm.