Achievements
GEP Student Wins Fulbright to India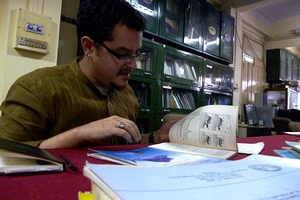 Global Environmental Policy program student Adam Jadhav, SIS/MA '14, has been awarded a research grant from the J. William Fulbright Foreign Scholarship Board to study social capital among fisher communities in India.

With the research scholarship, Jadhav intends to conduct a large-sample survey of fishing communities in the southern Indian state of Karnataka. He wants to examine sources of social capital and political organization within the fishing community, and argues that a better understanding of fisher social relations, norms, institutions and imaginations will offer potential avenues for more sustainable and equitable fisheries governance.

Jadhav spent the summer of 2012 in southern India, first working for Greenpeace on an ocean conservation mapping project. He later conducted research with the Dakshin Foundation on mechanized fisheries, collective action and community governance in and around Mangalore. Research from both projects - including dozens of hours of interviews with fishers, policy makers, activists and academics and thousands of pages of quantitative data - helped lay the foundation for his Fulbright proposal.

"I'm in Mangalore, hearing all these very standard responses that together add up to the so-called Tragedy of the Commons - everyone is competing against each other, no one has an incentive to fish less, no one can organize, there's no property regime, it's a free-for-all, the community has lost all control, and so on," Jadhav said.

"Yet when it came to organizing resistance against an ill-conceived and arbitrary state regulation on engine sizes, the fishers cooperated quickly and decisively to pull political strings," he said. "There's obviously some social capital and collective interest still at work in the fishery. I honestly am not sure the Tragedy of the Commons exists and I see underestimated potential for collective action."

Jadhav has consistently focused his graduate studies on India as a geography. The Journal of International Service recently published his examination of India's semi-free trade regime and its implications for environmental and social sustainability.

"I've had a lot of opportunities at AU and been influenced by a lot of good people," Jadhav said. "Professors have pointed the way, but also let me run. I wouldn't have won this Fulbright without that simultaneous guidance and free rein."

The Fulbright scholarship funds at least nine months of research. Jadhav expects to start in August of 2013 and hopes to publish policy and academic work based on his research. He also expects that the data generated while on Fulbright will become the basis for a doctoral dissertation.