Alumni
New York City Site Visit Trip Draws Students in Media and Marketing Fields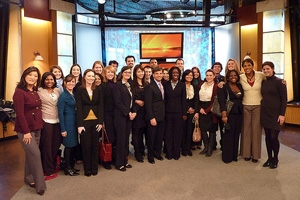 While Washington, D.C. is a virtual mecca of opportunities for AU students seeking career advice in public policy, law, government, and international relations, students interested in the fields of media and marketing often look a bit further north to find the same breadth of opportunities. This January, 75 of those students will travel to New York City for the 11th annual New York City Site Visit Trip and experience firsthand the inner workings of 22 media and marketing companies.
Designed for both career exploration and networking, the trip offers students unique exposure to different career paths, industry trends, and organizational cultures. Most students find that the trip not only helps solidify their academic and career interests, but makes them stronger candidates for jobs and internships. "I learned [at Bloomingdale's] that I have an interest in buying, and they all said that working in retail helped them become much more knowledgeable about clothing," noted one participant from the 2012 trip. "After the trip, I applied, interviewed, and accepted a job at Madewell, which is owned by J.Crew. I also ended up switching my major from communication to business as a result of what I learned on the trip."
Co-sponsored by the Career Center, Kogod Center for Career Development, School of Communication, and Office of Development and Alumni Relations, the trip was launched in January 2003 with 63 students and 13 sites. Over the years, it has grown to include as many as 90 students and 26 sites. Many site visits are hosted by AU alumni currently working in some of the most well-known media and marketing firms and companies in the country, such as Estee Lauder, FOX News, and Ketchum.
Jason Gold, SOC/BA '05, is the director of scripted media at AMC and has arranged for AMC to host its first-ever site visit this winter. Students will hear directly from Jason about the world of television production and AMC's place in the original programming landscape, as well as see a special preview of the network's upcoming new series. They will also learn more about Jason and his career path. He credits his own hands-on AU experience as motivation to serve as a site host. "The best experience of my career was participating in the Summer in L.A. program where we had site visits with many alumni," notes Jason. "I learned so much from them, and being there physically brought the experience to the next level. I'm excited to offer that to the next generation."
In addition to the site visits, students have the opportunity to connect with alumni at a special student-alumni networking reception, held on the second evening of the trip. "Students often forge powerful connections with AU alumni at the evening reception," notes Bridget O'Connell, director of outreach and marketing at the Career Center. "Many times, those connections lead to informational interviews and even job and internship offers."
This year's reception will be held on Wednesday, January 8 from 6:30 to 8:30 p.m. a the 3 West Club, located on 51st Street in midtown Manhattan. Featuring hors d'oeuvres and a cash bar, the event will serve as an excellent forum for alumni to meet students interested in the fields of media and marketing and to share their career experiences and insights. Cost to attend is $10 per person (no charge for students).
Ultimately, the NYC Site Visit Trip is advantageous to both students and alumni. "The trip has a powerful impact on the students and alumni who participate," says O'Connell. "Alumni enjoy the opportunity to help guide and support students as they find their professional footing, and students use the knowledge and network they gain to develop and achieve their career goals."
To register for the Student-Alumni Networking Reception on January 8, please click here. We encourage all alumni currently employed or seeking employment in the fields of media and marketing to attend.
Want to help fund this trip for a student? Visit our new crowdfunding site, UFUND to learn how!