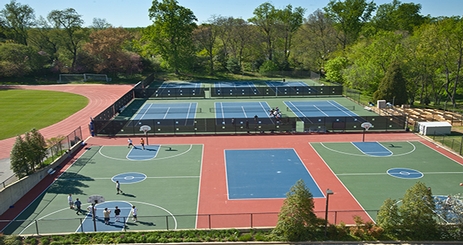 Recreational Outdoor Facilities
OUTDOOR TENNIS COURTS
American University features seven outdoor tennis courts for the use of the University Community.
REEVES ATHLETIC COMPLEX AND GREENBERG TRACK
Reeves Field is one of the premier soccer facilities in the Washington D.C. area and features a six-lane track to accomodate the track and field programs at American University.
WILLIAM I JACOBS RECREATIONAL COMPLEX
This state-of-the-art facility features an Astroturf playing surface, a brand new softball diamond and two outdoor and sand volleyball courts. In addition to varsity atheletics, AU's club softball team also uses the field along with the intramural flag football and softball.