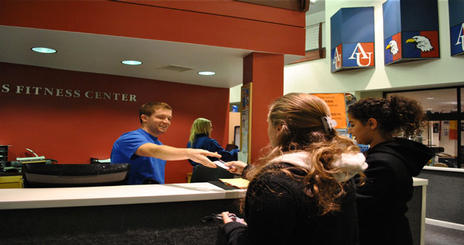 Student Memberships
Integrate Fitness into your Campus Life!
Student members include undergraduate students, part-time students, law school students, graduate students and PhD students. A student is defined as one who is registered for classes for the current semester in any of the above categories. In the summer, student memberships are given to those who were registered for the immediate previous spring semester (have not graduated) AND and fall semester OR currently registered for the summer session.  Meeting this criterion, no fee is charged for a membership and admittance will be rendered upon successful completion of the registration form and presentation of a valid AU ID card.  PhD students who have completed their course work must maintain matriculation and show proof they are registered.
For May graduates, membership ends on May 31st. Students may purchase an Alumni Membership in order to continue access.

For new students, access to the facility begins the first day of Welcome Week in the Fall and Spring semester.

Student Family
Registered students may enroll their spouse/domestic partner and dependents (under the age of 18) in a Student Family membership on a semester basis. Family members must be living in the same household as the student. Enrolling family members must be present at the time of registration for form completion and to take pictures for individual membership cards.
| | |
| --- | --- |
| Student Family | $133 per semester |
Become a Member Today!
New members (students) must complete our Registration Form in order gain access to all Recreational Sports and Fitness facilities.
Students under 18: Parents/Legal Guardian signatures are required on page 3 & 4 of form.