Student Research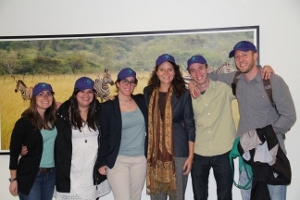 During the course of their studies, students in the GEP and NRSD programs conduct research into myriad topics — from international institutions to development solutions to specific conservation problems. Some of these research projects unfold in individual courses; others form a master's capstone project: a thesis or a significant research paper (SRP).
Recently, the School of International Service, has also started offering semester-long special team projects that are overwhelming student-driven. In these practica, a small group of students essentially acts as a consultant team for a particular client organization. They combine efforts to produce a wide range of outputs, from original research papers to policy analyses to filmed documentaries.
Individual and team research takes GEP/NRSD students across the U.S. and the globe. Recent projects by our students have ranged from studying local D.C. neighborhoods to fishers in India to protected area management in Ecuador.
Many of our students also travel to present the findings of their research at regional, national and international conferences; others ultimately have their research published by NGOs, governments and respected academic journals.

Recent research projects completed by GEP and NRSD students
Agriculture
Bury, Sarah (2012), Gardens as Roots of Resistance

Cimino, Andrea (2009), Food Security and Nutrition in West Africa: Bushmeat, Overfishing, Industrial Agriculture and Alternatives to the Consumption of Animal Protein 
Crehan, Philip (2012), Ag Development in Detroit

Dodge, Kris (2008), Agribusiness of the Global Monoculture: Durable Alternatives for the Rural Philippines
Dozoretz, Lindsay (2008), Will Corporatization Kill the Soul of Organics?: The Implications of the Organic Movement's Engagement with Big Business and What it Means for the Future of Food
Edge, Joshua (2007), Groundwater Irrigation and the Food Supply: The Case of the Ogallala Aquifer
Follett, Jeff (2007), Who Will Take the Lead? Social Movements and Strategic Alliances for an Alternative Food System in the United States
Hunt, Suzanne (2004), The Future of Agriculture: Certification and Ecolabeling
Newbold, Elizabeth (2008), Concentrated Animal Feeding Operations Manure Production & Pollution on Water Systems
Ostfeld, Jacqueline (2006), Cultivating a Sustainable Agricultural Sector: Policy Tools for the 2007 Farm Bill
Climate Change
Arakelian, Lynda (2003), Clean Development Mechanism Baselines, Costa Rica
Baker, Leah (2007), Congress & Sustainability Pivot Points: A Case for Incorporating Tougher Metrics into the Unfolding U.S. Climate Regime
Edmonson Alisha (2011), Demand Side Carbon Financing: the Case for Cites as Unified Sectoral Crediting
Hodum, Ryan (2007), Advancing Action to Avoid Additional Anthropogenic Activity in Asia's Atmosphere:The Potential Promise and Peril of Chinese Capitalists Combating Climate Change
Keller, Stephanie (2008), The Post-2012 Climate Change Agreement: A Role for the European Union
King, Ashley (2006), Modeling Vehicle Miles Traveled: Implications for Local Climate Change Policy in Portland,Oregon
Lubetsky, Jonathan (2003), Adaptation and Climate Change
Martin Allison (2011), American Indian Knowledge: Why Indigenous Participation is Essential for Effective U.S. Climate Policy
Matter, Julie (2008), Renewable Energy: Mitigating Climate Change
McMahon, Sean (2007), Reframing Climate Change: Morality, Human Health, and National Security
Meyer, Richard (2007), The Interplay of Corporate Governance and Climate Change: The Cases of BP and ExxonMobil
Piloyan, Diana (2007), How the Market of Tradable Emissions Permits Can Help Solve Global Climate Change
Rinnerberger, Nina (2006), Drowning Islands: Social Justice Through Litigation?
Sher, Lauren (2010), From Nil to $100 Billion: The United States' Commitment for Climate Financing Contributions in the Post-Kyoto World
Spak, Brain (2010), The Success of the Copenhagen Accord and The Failure of the Copenhagen Conference
Vizzier, Kirk (2007), The Creation of a Global ETS: Expanding the market for international emissions trading through system linkages
Conservation
Heller Avra (2011), A Critical Analysis of Community-based Management in the Port Honduras Marine Reserve, Toledo District, Belize
Hulkower, Samantha (2008), A Comparative Analysis of the Development and Restoration of the Louisiana Coastal Wetlands and Florida Everglades
Makihara, Sei, The Giant Panda Program
McLaughlin Caroline (2011), People living in Protected Areas: A Comparative Study of the Social Impacts of Conservation in Latin America's Maimirauá Sustainable Development Reserve and Ría Celestún Biosphere Reserve

Tourville, Sarah (2006), Debt-for-Nature Swaps: Trading External Debt for Environmental Conservation in the Developing World
Rowell, Toby (2008), Perceptions of Protected Areas, Wildlife, and Hunting: A Case Study of the Coto Brus Area in the Southwest Talamanca Mountain Range of Costa Rica
Witkowski, Kelly (2008), Guanacaste National Park and Roaring Creek: Assessment of the Relationship Between a National Park and a Buffer Community
Zanelli , Suzanne (2005), Seeing Through the Eyes of Dragons: Connecting Conservation, Science and Society through Traditional Folklore
Environmental Economics
Ash, Kyle (2006), The Political Economics of Population Decrescendo in Wealthy Countries
Kushner, Benjamin J.(2009), Navigating a Sea of Values: The Role of Economic Analysis in Promoting the Sustainable Management of Marine Protected Areas in the Caribbean
Environmental Education
Weissinger, Rebecca Kiersten (2011), Revitalizing the Rímac: Environmental Quality and Nonformal Education in Peru
Environmentalism
Leahu-Aluas Oana (2011), Engaging in Sustainable Behavior: How Does Individual Action Translate Into Policy
MacLane, Daniel (2005), Connecting to Nature in Leopold, Abbey, and Carson
Guitar, Christine (2005), Valuing Values: Going Back to the Fundamentals
Perry, Dana (2007), The Human-Nature Disconnect: Understanding the Causes, Investigating Solutions
Simpson, Summer (2005), Environmentalism for the South
Slavin, Michelle (2007), Creating Environmental Literacy: The Role of Local Knowledge in Environmental Education Programs
Van Horn, Meredith (2007), Checking the Pulse of Environmentalism: Finding Varying Shades of Green
Zhu Rong(2011), Mobilizing for a Green World: the Use of Internet as an ENGO Campaingning Tool in the US
Environmental Justice and Pollution
Weissinger Kiersten (2011), Revitalizing the Rimac: Environmental Quality and Nonformal Education in Peru
Barry, Fatoumata Binta (2010), Environmental Injustices: Conflict & Health Hazards in Niger Delta
Bredehoeft, Chris (2003), Brownfields: An Economic Case Study of Virginia's Program Initiative
da Costa, Alexandra (2005), Raiding the Village Pharmacy: the Integration of Equity into International Environmental Agreements
De la Batista, José Luis (2009), Development in the Amazon Basin Countries: Alternatives to Extraction of Non-Renewable Natural Resources
Hong, Udom (2007), Persistent Organic Pollutants: Comparing American and European Chemical Management Policies
McIlmoil, Rory (2007), One Step Back Toward "Almost Heaven": A Production-Based Proposal for the Elimination of Mountaintop Removal Coal Mining in West Virginia
Schneider, Lynn (2010), A Sweeter Alternative for Whom? Sugarcane Ethanol Production and Rural Livelihoods in Northeast Brazil
Stanley, April (2007), Tar Creek: A Case Study in the Limitations of the Superfund Program
Williams, Larke (2009), Managing the Air: Environmental Governance of China's Air Quality

Environmental Security
Bucchianeri Kristine (2011), Incorporating Natural Security into Disaster Risk Reduction Programs to Increase Resilience in Small Island Developing States
Demas Alex (2011), Disaster Diplomacy: The USGS Volcano Disaster Assistance Program and the Role of Science in Diplomacy
Caras, Dean (2000), Global Environmental Problems & U.S. National Security
Houshower, Nicholas (2009), Fluid Dynamics: The Politics of Oil and Water in China and Kazakhstan
Forest Issues
Budiansky, Ethan (2007), Forests and Conflict: The Relationship Between Forest Decentralization and Social Conflict
Chutz, Noah (2010), What Will It Take To Make REDD Work? Identifying the Weaknesses, Exploring the Role of Sustainable Forest Management and Supporting the Post-Development Potential
Johns, Bryan (2012), PES and REDD+: The Case of Costa Rica

Kipalu, Patrick (2010), Reducing Emissions form Deforestation and Forest Degradation in the Democratic Republic of the Congo: Perspectives of the Indigenous Peoples
McFarland, Brian (2010), Origins, Development and Potential of the International REDD Market
Medeiros, Michelle (2004), Logging in Liberia: The US Role
Norikane, Adam (2007), Restructuring Community Forestry: A Look at Tenure, Institutions and Gender in The Gambia
Shriver, Jeff, Reaping Profits while Restoring the Environment: Lessons from Central America (Published)
Tararan, Samuel (2005), Agroforestry and Payment for Environmental Services
Yadrick, Michael (2006), Peacemaking through Forest Conservation: Conflict Transformation in The Maya Biosphere Reserve, Petén, Guatemala
Zamgochian, Ani (2010), Supporting the Conservation of Indigenous Territories in the Brazilian Amazon: Analysis of the Suruí Community's Road to REDD
Zoll Deidre (2008), FSC and the Global Timber Trade: Solution or Stop-loss
Green Building
Falk, Elizabeth (2006), Edible Roof Gardens and Rainwater Capture: A Proposal to Enhance Justice of the School of International Service
Joldersma, Bretton (2005), Green Roofs: A Sustainable Development Tool for the United States
Marine Issues
Cunningham, Leda (2006), Fish for the Future: The Quota System as a Model for Managing the Global Fishing Commons
Edwards, Alyssa (2005), Integrating Population Dynamics into Coastal Management   

Ferguson, Rob and Padilla, Glenis (2010), A Longitudinal Assessment of the Socioeconomic Impacts of the Port Honduras Marine Reserve on the Coastal Communities of Southern Belize, Central America (1999-2009)
Lee, Tina (2012), Illegal (IUU) Fishing

McConnell, Michael (2012), International Tuna Fisheries

Marks, Jacqueline (2007), Sustainable Seafood: The role of Eco-certification in Marine Fisheries Management
Marrs, Alicia (2007), Environmental Protection Mechanisms of the International Maritime Organization (IMO): Can International Shipping Really Help Protect the World's Oceans?
McKinney, Vanessa (2007), Epistemic Communities – Their Composition, Research and Policy Role
Mumbauer, Kyra (2005), Beyond Consultations and Regulations: Meaningful Engagement of Small-Scale Fishers in Marine and Fishery Management

Renewable Energy
Jiang, Lian (2006), The Promise of Solar Energy: Exploring Policy Innovation in Technology Dissemination in China
Kaiser, Paul (2005), Wind Power and California's Energy Future
Lee, Jacqueline (2005), Comparative Wind Energy Policy in Denmark and California
Linnett, Tobias (2005), A Case for Renewable Energy in the United States
Madeira, Lindsay (2006), From the Poorest to the Globe: Harvesting the Sun for a Just, Green, and Sustainable Future
Morey, Jessie (2006), Clean Power in Costa Rica: Strategies for a Fossil Fuel Free Power Sector in 2020
Sutch Aaron (2011), Solar Distributed Generation: An Alternative to Large Scale Hydropower in Costa Rica
Sustainable Business
Arabshahi, Ida (2009), Sustainable Development in Costa Rica: A Case Study on the Impact of the Intel Corporation and the Need for Life Cycle Assessment Methodologies
Arnold, Emily (2008), "Can Business Green AND Grow?"- A Case Study Looking at WalMart's Sustainability Campaign
Hillis, E. Nicole (2006), Focusing on Small Enterprises to Reduce Environmental Impact: Small Lithographic Printers in the United States
Hogan, Elizabeth (2007), Corporate Social Responsibility: Incentives, Trends & Strategic Evolution
Mahl, Bonnie (2008), Greening of Music Festivals
Zielke, Emily (2008), Stopping Large Agribusinesses from Getting Fat on Prison Food Contracts
Sustainable Development
Bringhurst, Sam (2008), USAID Funded Multiconsortium Conservation Projects With Specific Focus on "Bolivia Landscape Project"
Coley, Derrick (2003), Cuba's Tourism Industry: Past and Future Implications for Sustainable Development
Henderson, Candy (2008), Stakeholder involvement in land management in Costa Rica
Johnson, Melissa (2012), Ecotourism in Galapagos

Mach, Leon III (2009), The Need for Ecotourism Principles in International Surf Culture
Mathews, Mason (2004), Community-based Natural Resources Management
Mcconnell Michael (2011), Searching for Carbon Neutrality in Costa Rica
Merchant, Alefia (2008), Deconstructing Sustainable Tourism in Practice: A Comparative Case Study from Costa Rica and Egypt
Moon Sukran (2011),The Four Major Rivers Project in South Korea and Implications for Improving Environmental Governance
Negley Jr., Paul (2008), Sustainable Tourism: Strategy for the University for Peace in Costa Rica
Pineda, Mariel, The Mesoamerican Biological Corridor and the PPP
Sander, Ben (2010), The Importance of Education in Ecotourism Ventures
Shriver, Jefferson (2004), Economic Development and Biodiversity Conservation in Mesoamerica
Soden, Robert (2007), Unnatural Disasters: The Role of Hazard Risk Reduction in Sustainable Development
Toomey, Anne Helen (2008), A Transition To Sustainable Development: Empowerment and Disempowerment In a Nicaraguan Community; Empowerment and Disempowerment in Community Development Practice: Eight Roles Practitioners Play

Vaswani, Rahul (2003), How are Rural Communities in Developing Countries Trying to Live Sustainably?
Urban Issues
Assar Daryush (2011), Residential Compost Collection Program: Reducing DC's environmental footprint
Delfs, Christopher (2004), Redesigning the American Dream: Searching for Community in America
Lynch, Brian (2006), Urban Poverty Alleviation in Developing Countries: Using G.I.S. to Improve the Lives of Slum Dwellers
Mendoza Melina (2011), RUNNING EMPTY: A case of failed Urban Planning for the Mass Transit System in Puerto Rico
Paul, Alana (2007), Rebuilding A Sustainable New Orleans: Coastal Restoration, Urban Planning and Ecocity Design Solutions to Global Climate Change
Towell, Jessica (2012), Post Soviet Urbanism

Williamson, Douglas (2006), Not a Distant Beast

Water Issues
Dougherty, Shannon (2007), Public Participation and Marginalization on the U.S.-Mexico Border: Investigating Colonias and Water Service Provision in Ambos Nogales
Elinewinga, Helena (2002), Root Causes of Water Scarcity in Developing Countries: South Africa and Tanzania
Keino, Stella (2002), Water Management among the Nile River Basin Countries
Mergler, Holly (2008), A Dying River: The Social Impacts and A Community's Response
Sagna, Cheikh (2007), Diplomacy and Transboundary Water Challenges in West Africa : Conflicts, Co-operation and Peace-building Efforts in the Senegal River Basin (Mauritania, Senegal, Mali & Guinea)
Vertrees, Marisa (2004), Politics of Water in Central America