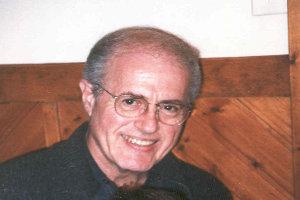 This annual award in the memory of Walter Sherwin is given to a student who has completed his/her first year of study in the IDP Master's program. The two main criteria are: an excellent academic record and a record of effective and active service to outside communities and/or relevant student organizations. The person's "fit" with the ideals for which he stood is also taken into account. The fellowship is for $5,000 to be used toward Spring tuition. The awardee is selected from a pool of outstanding students chosen by IDP professors. The students may not have any other scholarship or fellowship.

Sherwin spent his entire career working to improve the lives of people around the world through international development projects. He provided 27 years of dedicated service in USAID. Ten of those years were spent in West African countries helping to design and manage a wide range of projects such as health clinics, forestry and cereals and livestock development. After his retirement, he served as a consultant on projects in Eastern Europe. He also volunteered for Reading for the Blind and Dyslexic and independently went to Senegal trying to mount a similar project for the many blind people there. Unfortunately, a brain tumor cut his life short before he could realize this project. His strongest characteristics were an abiding idealism, persistence in the face of adversity, and a desire to fight injustice.
This award to honor Sherwin's life and work was started in 2006 by his wife, Kitty Sherwin, his two children, Mark and Jennifer, and his sister, Sue Byrd. 

Awardees

2014 - Deborah Sarpong, International Development

Deborah Sarpong is an MA student in International Development, with a global health concentration and graduates in May 2015. Deborah is originally from Ghana in West Africa and is fluent in English, French and Akan/Twi. She currently works in public broadcasting as an administrative/project assistant. She also volunteers with Quality Health Africa to promote healthcare in Africa, especially for poorer populations. As part of her internship in 2014, Deborah worked with the Population Council to assess the impact of reproductive health services projects for female workforce.

Before starting the American University, Deborah volunteered with Excellent Youth Outreach (EYO) to guide young people in making better life choices by providing them with life skills that empower them to become better leaders and citizens and served as the group's general secretary. For two years, she was also part of the committees which organized the International Youth Leadership camps and conferences that brought together young people from across the world. Deborah has also volunteered as a junior mentor with the Databank Foundation to help underprivileged high school students in the Ghanaian Greater Accra Region. She mentored them to help build their resilience and achieve their academic goals. The year preceding her program in the American University, Deborah served in national service to the Ghanaian government by working with the British High Commission in Accra, Ghana she worked with visas and migration issues for the West African Region.


2013 - Asmaa Elsayed, International Development

Asmaa graduated magna cum laude from George Mason University. She recently received her master's degree from American University, where she served as an executive board member for the International Development Program Student Association, and was awarded over eleven scholarships and honors. For three years, Asmaa helped translate, edit, and culturally adapt some of the first research-based and developmentally appropriate early childhood education (ECE) curricula and assessment systems available in the Middle East in Arabic. Asmaa co-founded a US-based NGO, which helped provide education subsidies for orphans in Egypt and meals to over 700 families in 2008. She worked for two and half years at the office of Oman Ambassador to the US Hunaina Al Mughairy, Washington's first female ambassador from an Arab country. Asmaa is currently writing her first book, "The Pursuit." Asmaa's goal is to be an advocate for human rights and peace and a leading scholar and practitioner in the field of global education.

2012 - Andrew (AJ) Doty, International Development

AJ graduated with is Master's in International Development in SIS in 2013. For the past two years he has been working as a fellow, then the Director of Monitoring and Evaluation for Village Enterprise, a non-profit that specializes in microenterprise development. He has been in Uganda and Kenya for the past two years. While at American University he received a Tinker Walker fellowship to work in Tunisia, and he completed his capstone practicum in Rwanda, carrying out a midterm program evaluation for USAID.

Before starting at American University he worked for a year and a half as an AmeriCorps VISTA doing community-based tenant organizing, and then as a community developer and social worker in the Hunts Point neighborhood of the South Bronx. He has his bachelors from Pitzer College where he graduated with honors in Sociology in 2009.

2011 – Joanna Mantello, International Development

After two years in Israel and the West Bank and one year with Management Systems International, Joanna Mantello joined USAID's Middle East Bureau as a Presidential Management Fellow and Desk Officer for West Bank and Gaza in January 2013. Joanna is the 2011 recipient of the Sherwin Fellowship and graduated from AU's International Development program in May 2012. Joanna was born in Washington, DC and is fluent in French.

2010 – Hu Di, International Development

Hu Di was the Sherwin Award recipient in 2010. Hu Di has spent most of her career in international education exchange and development through volunteer service. Currently she is the Director of International Operations at Global Volunteers. Previously she worked at the National Committee on U.S.-China Relations. She lives in Metropolitan New York with her husband.

2009 – Asmeret Ashgedom, International Development

Asmeret Asghedom graduated from American University in 2010. After graduating she received the Presidential Management Fellowship and completed a two-year appointment as an economist at the U.S. Department of Energy. She continues to work at DOE as an international energy market analyst and is the lead analyst on energy issues in Africa at the Energy Information Administration. Before moving to Washington DC for graduate school, Asmeret spent 3-4 years tutoring at inner-city schools in Las Vegas, NV.

2009– Linda Nico, International Development

Linda Nico, a native of Rhode Island, was the Sherwin Award recipient in 2009. Linda is a Training Team Manager at Tetra Tech. She designs and manages international training workshops tailored for Directors, Managers, Project Implementers and Utility Managers from companies and governments from around the world.

2008 – José Henríquez, Development Management

José was born in El Salvador and has extensive experience on human development and social justice issues in Central and South America. He currently works in Belgium at the headquarters of Pax Christi International, a global network of peace and human rights organizations. José received the 2008 Walter Sherwin Award and graduated from American University in 2009.

2007 – Rathi Mani, International Development

Rathi is a financial services and capacity building specialist at design thinking social enterprise in Cambodia called 17 Triggers. Rathi specializes in using design thinking and human-centered design methods to develop positive customer experiences in a variety of sectors (health, nutrition, agriculture,sanitation, etc.), having had over 7 years of extensive global experience in financial service delivery and capacity building. Rathi has worked in Latin America and the Caribbean, Sub-Saharan Africa, MENA, and Asia on a variety of projects funded or implemented by financial service providers, large international NGOs, bilateral and multilateral organizations, or private sector companies. In her previous work in Washington, D.C., she focused on working with financial institutions to develop and offer tailored financial and non-financial products to low-income youth. She currently lives in Cambodia with her husband and her one-year old baby girl, where she loves riding her moto to work and eating fried frog on special occasions with her co-workers.

2006 – Claudia Rodríguez-Alas, International Development

Claudia Rodríguez-Alas, a native of El Salvador, was the first recipient of the Walter Sherwin award in 2006. Claudia is currently a consultant with the Human Development Network at the Work Bank where she helps to analyze the performance of social protection programs around the world. She also has worked with non-profit organizations on financial literacy and immigrants' rights. She graduated from the International Development program in 2007.
Skills Institutes

Intensive three-day courses, training students in state-of-the-art international development techniques
Tinker-Walker Fellowships

Through the Irene Tinker-Millidge Walker Fellowship, students can receive financial support to offset the costs of including overseas field experience in their research, internship, or practicum.