Tinker-Walker and IDP Travel Fellowships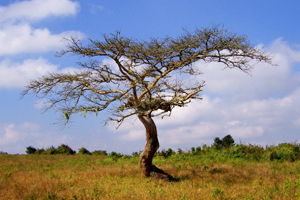 Students are encouraged to include overseas field experience in their research, internship, or practicum. Through the International Development program's endowed Irene Tinker-Millidge Walker Fellowship, students can receive financial support to offset the costs of study.
Recently, students have used this fellowship to work with:
South Pacific Business Development (SPBD), Tonga
Catholic Relief Services (CRS), Haiti
Iracambi Atlantic Rainforest Research and Conservation Centre, Brazil
BRAC, Uganda
Reproductive and Child Health Alliance (RACHA), Cambodia
Peace Corps, Tanzania
ChildFund, Laos
People Against Suffering Oppression and Poverty (PASSOP), South Africa
Inyathelo, South Africa
Health Poverty Action and Movimiento de Mujeres Nidia White, Nicaragua
World Health Organization, Switzerland
Global Campaign for Education, South Africa
USAID, Liberia
Population Services International- Rwanda (Malaria and Child Health and Planning)
CHF International- Rwanda
Population Services International- Mali (Reproductive Health)
Thai Binh Foundation- Vietnam (Education)
IFPRI- Ghana (Agriculture)
BaGA Maidi Development Trust- South Africa (Education)
IRC- Ethiopia (Cultural Orientation for Refugees)
HOPE- Republic of the Congo (Microfinance)
UNHCR- Israel (Disability and Chronic Illness among Refugees)
ZOA Refugee Care- South Sudan (Food Security and Livelihoods)
Global Giving Foundation- Turkey and Armenia (Disability and Education)
James Genovese
Summer 2015 Tinker Walker Fellow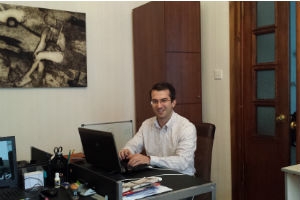 Where did you work?
During Summer 2015, I served as a Communications Intern for the Anti-Corruption Action Center in Kyiv, Ukraine to conduct research on the pace of anti-corruption reforms instituted by the Poroshenko government while also supporting the outreach and communication activities of this watchdog organization. In terms of its function, the Anti-Corruption Action Center (AntAC) is a Ukrainian civil society organization which monitors grand political corruption in public procurement, reviews the activity of politically-exposed persons, lobbies for anti-corruption legislation, and mobilizes the general public to hold the government accountable for corruption abuses.
What did you do?
As the organization's Communications Intern, I was primarily responsible for building and sustaining their English language presence for their activities. First, I provided weekly English updates of AntAC's activities to their international funders. Second, I translated Ukrainian public procurement fraud reports, press releases, and corruption articles into English to be published on their English website. Third, I provided editorial support for their reports on public procurement corruption in the Ukrainian pharmaceutical industry. Fourth, I conducted research on Ukrainian corruption trends and approaches through case study analyses while also examining whether qui tam legislation and enhanced whistle-blower protection laws could strengthen state tools to combat corruption. 
What did you enjoy about the experience?
This internship was particularly enjoyable because I had the significant opportunity to work with a dedicated team of reform-minded Ukrainian professionals and activists who are dedicated to applying their skills and expertise to improving the dire situation in Ukraine. Given Ukraine's challenging political history, endemic culture of corruption, and ongoing security challenges, it was a privilege to work with a driven, optimistic team focused on improving the state to build equity and justice in Ukraine. 
How did this experience help you grow as a student and prepare you for your future career?
As an International Development student with a concentration in Governance and Democracy with a significant research interest in corruption and state-building reforms in Eastern European and Central Asian Post-Soviet countries, this internship was an excellent opportunity to witness the activities of an energetic civil society organization in enacting anti-corruption reforms. The Tinker-Walker Travel Fellowship has definitely contributed to my own academic and professional development in preparing me for a career in improving governance structures in Post-Soviet Eastern European and Central Asian states.
Betsy Nolan
Summer 2015 Tinker Walker Fellow
What organization did you work for and where?
I worked at the World Desk of one of the largest English language newspapers in Jakarta, Indonesia, The Jakarta Post. I was located in Indonesia's capital, in Western Central Jakarta on Jalan Palmerah Barat.
What did you do?
I was a journalist for the World Desk and worked with the editor and deputy editor to discuss and choose stories related to current international topics and how they affected the Indonesian audience. I spent most of my internship focused on the Rohingya refugee crisis and how the region was responding to the steady flow of stateless Muslim refugees, especially in Malaysia and Indonesia, the closest majority Muslim countries to the crisis. I also got to participate in an interview with the UN Special Rapporteur on the Promotion and Protection of the Right to Freedom of Opinion and Expression as well as report on the normalization of ties between the US and Cuba.
What did you enjoy about the experience?
The challenge of researching a complex storyline and turning it into a concise story about a current topic was extremely satisfying, my coworkers were friendly, and there were often other interns and copywriters also experiencing Jakarta for the first time, so even when I wasn't spending much time with English speakers, I could take a break to talk to another intern and trade stories. My coworkers included me in events for both Muslims and non-Muslims during Ramadan, like the breaking of the fast at sundown, when the office provided a light snack or sometimes a large feast for the whole office. I really enjoyed the getting to know Indonesians and exploring Jakarta as part of my job.
How has this experience helped you to grow as a student and prepare you for your future career?
This experience really challenged me to work on my cross-cultural communication skills, and I even learned a little Indonesian language. It has inspired me to think differently about where I might want to work in the future, and helped build my confidence for producing publishable writing within a short time frame.
Zev Rose
Summer 2015 Tinker Walker Fellow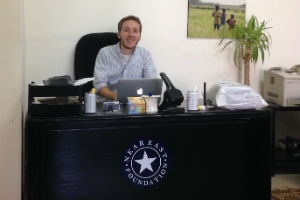 Where did you work?
I worked for the Near East Foundation (NEF) in Amman, Jordan. NEF is an international NGO operating in nine Middle East and North African countries using a participatory and community development approach to improve the lives of the regions most vulnerable citizens. NEF has been working in Jordan since 1937, and is currently focusing on economically empowering Iraqi and Syrian refugees and poor Jordanian host communities.
What did you do?
The NEF staff were gracious and provided me with the opportunity to contribute and gain experience at all stages of the project lifecycle. My wide-ranging tasks included participating in UN working group meetings, developing and writing concept notes for future projects, producing logframes and M&E plans for ongoing projects, surveying and interviewing past beneficiaries, assisting at field trainings and project events throughout Jordan, and crafting marketing materials to highlights success stories.
What did you enjoy about the experience?
Since Amman is a hotbed for development NGOs and humanitarian organizations I had the opportunity to meet passionate and hardworking development practitioners and learn about the innovative programs and organizations that are tackling the Syrian refugee crisis head-on. Through working group meetings, networking events, and day-to-day interactions I gained a much deeper understanding of the diverse development landscape and the multitude of creative ideas being implemented throughout the region. The innovativeness of those in the field made me optimistic and excited about development and helped me craft new project ideas for NEF.
How did this experience help you grow as a student and prepare you for your future career?
Nothing can be beat being on the ground and seeing the obstacles and opportunities that present themselves as a project in being developed or implemented. I returned from Amman reinvigorated about development in the Middle East and equipped with new skills, but I felt troubled by the difficulties of producing sustainable impacts and challenged to find more tools and strategies to address the complex needs of beneficiaries.
Meet the Summer 2014 Fellows!

Read profiles of the Fellows and learn about their work.

Apply for Fellowships

Apply now for the Tinker-Walker & IDP Travel Fellowship.