Panel Discussion with IER Alumni, Council for International Economic Relations Friday, Nov. 22, 2013

CIER President Alex Choy (left) with alumni panelists Allison Rose-Sonnesyn '04, Lawrence Lamonica '02, and Monica Zhang '09.

The IER student organization Council for International Economic Relations sponsored and organized an extremely informative panel discussion with three distinguished alumni: Allison Rose-Sonnesyn, with the House Committee on Science, Space and Technology; Lawrence Lamonica, with SOL Capital Management Company; and Yun Zhang, with the National Foundation for Cancer Research. The panelists spoke about their career paths and current job responsibilities; discussed the educational background and practical skills most needed to find and perform well in their professional positions; provided tips for job searches and networking opportunities; and answered specific questions from the IER students in attendance.

Ms. Allison Rose-Sonnesyn, IER '04, has been a professional staff member of the House Judiciary Committee (2011-13) and is now employed by the House Committee on Science, Space and Technology. The Committee's work includes oversight of space activities of the U.S. Treasury and Department of Commerce. She previously worked as a project manager for The First Church of Christ, Scientist (2007-10) and a financial advisor for the investment banking firm Morgan Stanley (2006-07).

Mr. Lawrence Lamonica, IER '02, is a Vice President of Business Development at SOL Capital Management, a boutique investment advisory firm with offices in Washington, DC and New York City, where he manages relationship with high-net-worth individuals, families, and institutions in Latin America. He also implements strategic business plans in various markets throughout the region. His previous work includes stints as an international economist at the U.S. Treasury (2002-04) and the Chilean Finance Ministry (2004-05) where he assisted in the development and implementation of that country's foreign economic policy. He is also a member of the Board of Directors of the Chilean-American Foundation, a nonprofit organization supporting underprivileged children in his native Chile.


Ms. Yun (Monica) Zhang, IER '09, is Marketing & Communications Associate with the National Foundation for Cancer Research. Her area of focus in recent years has been China, working with the Chinese Biopharmaceutical Association as a member of its board of directors and as Vice President for Marketing & Communications. She previously worked as a Research Assistant at the Woodrow Wilson International Center for Scholars (2009) and an economic analyst at the Embassy of the Republic of Iraq (2009).
Presentation: "Shock Transmission through International Banks: How Vulnerable Are Affiliate Markets? Evidence from U.S. Banks" with Dr. Tara Rice Wednesday, Nov. 20, 2013

Faculty Fellow Tara Rice, in residence at IER/SIS during Fall 2013 while on leave from her position as Chief of the Global Financial Institutions Section, Division of International Finance, Board of Governors of the Federal Reserve System, gave a presentation as part of AU's Department of Economics Research Seminar Series.

Her underlying research paper, which is co-authored with Ricardo Correa from the Fed, Bill Goulding from MIT, and Juan C. Gozzi Valdez from the University of Warwick, examined U.S. banks' foreign exposures during 1977-2012, a period covering both domestic and global banking crises originating in emerging market economies, Japan, Europe, and the United States. It used a novel dataset of U.S. banks' foreign claims to identify changes in the supply of funds to foreign residents, focusing specifically on changes in foreign claims during periods of banking crisis. It constitutes the first study the transmission of banking shocks over multiple crisis periods using U.S. bank-level data on exposures to foreign countries over a long time horizon. The preliminary results suggest that U.S. banks have experienced "common lender" effects as a result of their exposure to banking-crisis countries over the last 30 years; and that having a local presence in a country does not make U.S. banks claims on that country to be more "sticky" when faced with potential losses due to exposures to a crisis country.
Presentation: "Is the Euro Area Crisis Over?" with Dr. Ali Al-Eyd and Janyne Quarm, International Monetary Fund Tuesday, Nov. 12, 2013

Prof. Arturo Porzecanski (left) with panelists Prof. Randall Henning, SIS alumna Janyne Quarm of the IMF, and Dr. Ali Al-Eyd.

The International Economic Relations Program hosted a presentation by Dr. Ali Al-Eyd and Janyne Quarm of the International Monetary Fund's European Department. Al-Eyd (Ph.D., Imperial College London) is a Senior Economist in the IMF's European Department and previously worked at Citigroup, Dresdner Kleinwort and the National Institute of Economic and Social Research. Ms. Quarm (B.A. & M.A. from SIS, American University) is a Research Analyst in the Fund's European Department and previously worked at the U.S. Congress and the Treasury Department, and was an intern with Chile's Ministry of Foreign Relations and Puerto Rico's Federal Affairs Administration.

Prof. Randall Henning was the discussant and Prof. Arturo Porzecanski the moderator for the event.

The guest speakers explained that a variety of economic policy actions have reduced major risks and stabilized financial conditions in the Euro Area, although growth in the periphery is still constrained by credit bottlenecks. The region is expected to gradually pull out of recession, with growth reaching 1 percent in 2014, following GDP contractions in both 2012 and 2013. However, financial reforms remain unfinished; the channels of monetary policy transmission are still impaired; there is an overhang of corporate debt in some countries; government debt levels remain too high; and wide-ranging structural reforms (beyond banking) are yet to be undertaken in many countries.
Book Launch: "Holding the Shop Together" with Prof. Stephen Silvia Monday, Nov. 11, 2013

The International Economic Relations Program celebrated the launch of Dr. Silvia's new book, "Holding the Shop Together: German Industrial Relations in the Postwar Era". In this work, Dr. Stephen Silvia, a prominent scholar of comparative industrial relations and labor markets and also of German politics, contends that the powerhouse German economy has been fueled by the strength of its industrial relations system, which has penetrated German capitalism more deeply than in any other state. Through this lens, he examines the Germany economy as a whole, the impact of Germany's industrial relations on industrial relations abroad, the actions of trade unions and employers' associations, and the ways in which German labor and management teams have dealt with the crisis of membership losses.

According to Andrei Markovits, Professor of Comparative Politics and German Studies at the University of Michigan: "Holding the Shop Together" represents scholarship at its best; Stephen J. Silvia's immense erudition is visible and palpable in every sentence and every thought. This is far and away the best book on German trade unions and industrial relations bar none, in any language. Silvia tells a complex story and concludes that the fate of unions is decided by the political culture in which they operate."
Presentation: "A Ricardian Factor Content Characterization of the Gains from Trade: Evidence from Japan's Opening Up" with Prof. Daniel Bernhofen Friday, Nov. 8, 2013

Dr. Daniel Bernhofen

The Washington-Area Economic History Seminar hosted by the Department of Economics at American University featured the presentation of a paper co-authored by Dr. Daniel Bernhofen, a leading scholar in international trade, and Prof. John Brown of Clark University, a noted economic historian. The paper, titled "A Ricardian Factor Content Characterization of the Gains from Trade: Evidence from Japan's Opening Up," offered an assessment of the gains from trade rooted in production theory using the case of Japan in 19th century.

A generalization of Ricardo's 1817 formulation of the gains from trade interprets the value of trade to an economy as a relaxation of its endowment constraints. An advantage of this production-based approach is that it imposes no restrictive assumptions on consumer behavior and potentially only requires data from an economy in a trade equilibrium. A high-quality data set on product and task-specific factor employment from Japan allowed the authors to apply this approach to answer the following counterfactual: What factor augmentation would have been necessary to compensate the economy for an overnight suspension of trade in its early trade years of 1865-1876? Over the entire period, the authors found that trade was revealed to be equivalent to a 4% increase in Japan's female labor force, a 2.5% increase in its male labor force and a 2.5% increase in its arable land. If Japan had not opened up to trade, it may well have suffered efficiency losses averaging 6.3-7.7% of the economy's potential, results remarkably consistent with an earlier analysis based upon a consumption-based approach to measuring the gains from trade.
Conference: "The NAFTA Promise and the North American Reality: The Gap and How to Narrow it" with Prof. Manuel Suárez-Mier Thursday-Friday, Oct. 31-Nov. 1, 2013

Prof. Manuel Suárez-Mier, Director of American University's Center for North American Studies as of Jan. 1, 2014, was the co-organizer of a major conference that took place on campus on the occasion of the 20th anniversary of the establishment of the North American Free Trade Area (NAFTA), to look to the future to sketch both the vision and a blueprint for North American integration by learning from past challenges, both resolved an unresolved.

The conference covered five broad issues in five panels, beginning at 2 PM, October 31: Competitiveness in a World of Three Regions; Shared Responsibility and Institutional Collaboration for Security Issues and Judicial Reform; Energy and the Environment; Immigration: The Social Transformation of North America; and Organizing the Three Governments and Nations to Close the Gap: Visions and Institutions. It included a dinner sponsored by the Embassy of Mexico on the first day, and concluded on November 1 with a summary of the results before a panel of senior representatives of the three governments, followed by a reception hosted by the Embassy of Canada. A video of the closing panel is available here.
AY 2013/14 Welcome Reception Friday, Sep. 20, 2013

Prof. & Mrs. Arturo Porzecanski hosted in their home, conveniently located near the AU campus, the traditional Fall Welcome Reception for new and returning IER students. Most faculty members and students affiliated with the IER program attended the event which featured drinks, food and pleasant company for several hours –- an excellent opportunity for new students, in particular, to meet their professors and also their second-year counterparts.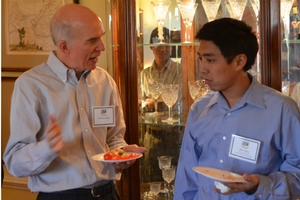 Prof. Stephen Silvia talks to student Alex Choy at the Fall 2013 Welcoming Reception.

Prof. Manuel Suarez-Mier talks with IER student Elizabeth Felling.

Spring Alumni Career Panel February 21, 2014

As a sequel to CIER's successful alumni panel last Fall, the IER program recently sponsored a panel discussion with four diverse alums: Caesar Layton '02, the Senior Vice President of Relay Foods; Cerena Mitchell '07, an Advisory Services Manager at Ernst & Young LLP; Timothy Olsen '11, an Intelligence, Risk, and Security Consultant at IHS, Inc.; and Nargiza Salidjanova '07, an Economic Policy Analyst at the US-China Economic and Security Review Commission. The panelists shared frank advice about networking, professional growth, career paths and transitions, professor-student relationships, and the job market in general, as well as answering targeted questions from the audience. The attendees also socialized with panelists over a light dinner and coffee following the event.


Mr. Caesar Layton, IEP '02, worked as an international development consultant for over a decade following his Magna Cum Laude graduation from AU. In 2012, he began transitioning in the Washington, D.C. start-up industry as a business development expert. Currently, he is the Senior Vice President of Relay Foods.

Ms. Cerena Mitchell, IER '07, concentrated in development finance at SIS. However, a job as a federal credit consultant during her time at AU led her to becoming an AGA-certified Government Financial Manager. Currently, she is an Advisory Services Manager at Ernst & Young. Ms. Mitchell has consulted for USAID, OPIC, the DOE, and countless other federal agencies.

Mr. Timothy Olsen, IER '11, interned at the U.S. embassy in Azerbaijan and at the Council on Foreign Relations' Center for Geoeconomic Studies while at AU. After completing a research internship at Brookings focusing on the impact of resource scarcity on US Foreign Policy as well as graduating with a concentration in energy security, Mr. Olsen obtained his current position as an Intelligence, Risk, and Security Consultant at IHS, Inc.

Ms. Nargiza Salidjanova, IER '07, first pursued her interest in Chinese economic policy as an intern at the USDA's China Program while completing her 5-year BA/MA at SIS. Ms. Salidjanova then began a research fellowship at the US-China Economic and Security Review Commission, where she is currently an Economic Policy Analyst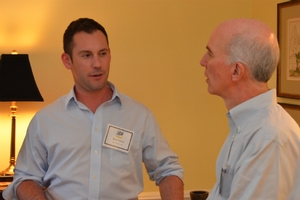 Dr. Stephen Silvia (right) speaks with IER student Brett Collop at the Fall Welcoming Reception.
Washington Location

Take advantage of our location in Washington, D.C., which provides unparalleled opportunities to gain experience.