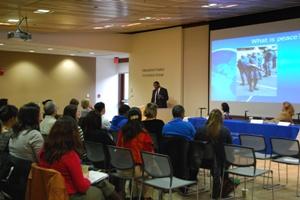 No Justice, No Peace: A Peace Education Context for the 21st Century
Peace education works to promote the values, knowledge, and skills necessary to enable individuals of all ages to promote peaceable communities.  With the changing needs and challenges of the 21st Century, peace education needs to adapt to the current realities to achieve its goal of creating a more peaceful world.  This event featured Patricia Mishce, Founder of the Global Education Associates and renowned scholar on peace education, and Dave Ragland, Lecturer at Southern Illinois University and an important practioner in transitional justice in urban communities in the US. For more pictures of the event, please see our Facebook page. To listen to the event, please visit iTunesU.

Preventing Violence, Fostering Peace:  A Strategy Session

In conjunction with Little Friends for Peace and with the support of the DC Peace Team, Localizing Peace Initiative hosted a half day strategy session entitled Preventing Violence, Fostering Peace. Held at Martin Luther King Memorial Library, this event included representatives from Identity, Latin American Youth Center, and the DC Peace Team to discuss best practices, challenges, and where we can collaborate more.  
DC Peace Team
Interested in nonviolence? Grassroots organizing?  Helping your local community?  
Join DC Peace Team.  We are a collective of organizations and individuals that work towards cultivating and sustaining a culture of nonviolence in DC.  Modeled after international peace teams, DC Peace Team hopes to transform how our communities and current institutions engage with conflict and violence. We do this by developing relationships with each other, providing trainings for nonviolence, monitoring key areas of struggle in our communities, and accompany school children through areas.  For more information or how to get involved, please contact Eli McCarthy at eli_trinity@hotmail.com.