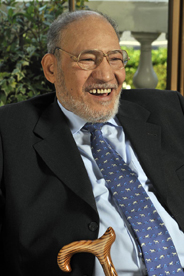 Mohammed Said Farsi

Mohammed Said Farsi was trained in architecture and town planning in Alexandria, Egypt, and entered government service in 1963. At age twenty-nine, he was appointed Town Planning Officer for Jeddah, Saudi Arabia. From 1972 to 1986, he held the position of Mayor and City Planner of Jeddah. During this time, Dr. Farsi travelled around the world, meeting with sculptors, painters and musicians, and talked with them about his vision, "... to have in our city, places of beauty." As a result of his efforts, Jeddah has one of the most remarkable collections of outdoor sculptures in the world. Dr. Farsi's architectural vision elicits the principles of harmony, tradition and spirituality.
Through his work in Jeddah, Dr. Farsi began to see that "the whole is reflected in the parts, and from the parts comes the ever-greater whole." He also saw that the East and West can meet - that the East can remain faithful to its cultural heritage while accepting the best that the West can offer, and, moreover, that the East can offer its own cultural riches to the West. With his expansive vision of the world, Mohammed Said Farsi has tried to live his life creatively, bringing greater beauty to city of Jeddah.
Inspired by the "golden age" of Arab and Islamic culture, Mohammed Said Farsi is a firm believer in the arts, sciences and literature. He understands that the "flowering of culture begins with the elimination of fear, anxiety, and turbulence." It is to this end - the flourishing of human culture and the promotion of inner as well as social peace - that Mohammed Said Farsi's quest for beauty has been directed. It is his hope that each sculpture and monument which he has brought to Jeddah will bring a desire to probe for inner, spiritual meaning - for "spiritual essence" from which fine art emerges.
Mohammed Said Farsi's generous endowment of the first Chair of Islamic Peace, established at American University, reflects the universalism, tolerance, and inclusiveness of the original message of Islam on an individual level. His deep belief in the Islamic ideal of human solidarity that respects the reality of cultural pluralism, coupled with his quiet dignity, his intellectual achievements and personal generosity, reflect a concrete manifestation of Baraka (God's grace and blessing) in his life. Mohammed Said Farsi teaches us that the "realization of an object as art is a spontaneous act of giving." It is from this vision of life as art that the Chair of Islamic Peace derives its inspiration.