Goals of the Mohammad Said Farsi Chair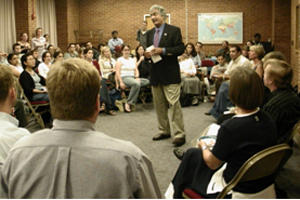 Facilitation of efforts that enhance scholarship and policy-relevant contributions to the understanding of Islam and global peace, in cooperation with established programs and with individual faculty worldwide, and their respective teaching units.
Teaching and development of curricula on the Islamic sources of peace and conflict resolution.
Provision of support and assistance for student research through scholarships and fellowships in various areas related to peace and/or Islam, and for community service activities and programs.
Development of multicultural conflict resolution workshops, including Muslim, Christian, Hindu, Buddhist, Jewish and Confucian scholars to search for common ground and for sources of conflict resolution, reconciliation and peace.
Annual appointments of Scholars-in-Residence and Visiting Public Servants who will conduct teaching and research relevant for the advancement of a comprehensive peace research agenda.
Exhibitions on cultural manifestations of Islam for the American University and the greater Washington area, to include Islamic art, architecture, medicine, music and dance.
Contact Us
E-mail: tawhid@american.edu

Phone: (202) 885-1632
Fax: (202) 885-6999

Mohammed Said Farsi Chair of Islamic Peace
American University
School of International Service
4400 Massachusetts Avenue, NW
Washington, DC 20016-8071