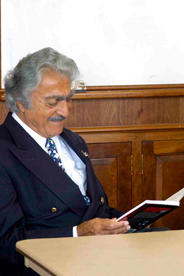 Writings
What Makes a Strong Leader?  The Power of 99 Names
This paper explores the power of the leader in the Islamic and Arabic tradition and implores Middle Easterners to look to reclaiming their cultural traditions. Read More. (PDF)

Islamic-Western Peacemaking: Partnerships for a Better World
(With Nathan Funk)
February 21, 2010
Makes a number of recommendations on how to cultivate cooperation between the Muslim World and the Western World, for the inauguration of a "new story" of complementarity. Read More (PDF).
The Need for New Thinking
(With Charles Lerche and Nathan Funk)
June, 2006
Explores the challenges globalization poses for individuals and the opportunities we have for adjusting our cognitive approaches to understanding the world. Read More (PDF).
The Whole World Needs the Whole World
March 14, 2005
Suggests opportunities for transforming the dominant narratives between Islam and the West, based primarily on dialogue and openness. Read More (PDF).
Educating for Global Citizenship: Perspectives from the Abrahamic Traditions
February 24, 2004
Read More (PDF).
The Role of Faith in Cross-Cultural Conflict Resolution
(With Nathan Funk and Lynn Kunkle)
September, 2001
Affirms that the search for commonalities can be the source for bridging divergent worlds of perception. Read More (PDF).
Eight Steps to Israel-Palestinian Peace
(With Mubarak Awad)
November 2, 2000
Enumerates eight steps to developing a broad consensus among Palestinians and Israelis as an instrument for peace. Read More (PDF).
Development Evaluation Systems
(With Brady Tyson, 1970s)
An expert analysis of the goals and purpose of development as based in human rights.  Included is a model for how to compare aspects of development in different countries.  Read more (PDF).