Islamic Lecture Series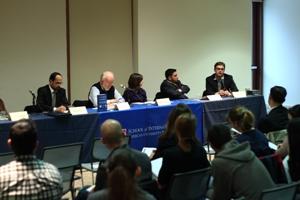 Recognizing the importance of fostering conversations that explore the diverse and multidimensional facets of Islam, the Mohammed Said Farsi Chair of Islamic Peace established the American University Islamic Lecture Series in August 2009. Entitled "Engaged Conversations: Perspectives on Islam and Contemporary Global Issues," the lecture series explores critical topics related to Islam and Muslims in a globalized world and features a diversity of speakers, both scholars and practitioners, from the DC metro area. Past topics have included:
2008- 2009 Series

Islam and Peace
Minority Rights and Pluralism in Islam
Islam and the Environment
2009-2010 Series

Muslim Women Peacebuilders
Interfaith Dialogue and Action
2010-2011 Series

Islamic-American Peacemaking
Exploring the Tensions Between Pluralism and Marginalization within the Muslim Community
Combating Islamophobia
Dialogue on Identity
2011-2012 Series

What can Islam Contribute to Transitions in the MENA Region?
Islam, Policy, and the Changing Doctrine of Multiculturalism
Beats of Faith

In collaboration with the Mohammed Said Farsi Chair, the Center for Peacebuilding and Development, the International Peace & Conflict Resolution Program, the American University Muslim Students Association, and the International Legal Studies Program at the Washington College of Law have played key roles in implementing and sustaining the Islamic Lecture Series.
For suggestions of guest speakers and topics, please email Sarah Schmidt at sschmidt@american.edu.