International
SIS Summer Session in Brazil Explores Rural Livelihoods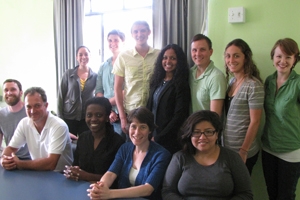 This summer, the School of International Service offered a unique practicum and course in Brazil, led by Assistant Professor Eve Bratman, called Forests and Livelihoods: Rural Development in Brazil. The program allowed ten SIS graduate students to explore many facets of Brazilian society, politics, and environmental issues while also working with a research and educational center in Brazil's Atlantic Forest. We asked Rachel Teter, a participating student, to share some of her impressions.
As I sit in JFK airport waiting for my return journey's final leg to begin, I try to pool my thoughts together into cohesive sentences. Our six-credit practicum and Rural Livelihoods classes in Brazil are over, with just a few hours standing between me and my routine life back in Washington, DC.
Having the opportunity to stay in four different parts of such a beautiful country while learning about its vibrant culture, history, and people was exciting enough. Combine that with the shared electricity of being in a country obsessed with soccer during the World Cup puts the experience in the "once in a lifetime" category. 
Over the course of twenty-five days our group attended lectures at the Rio-based university Fundação Getúlio Vargas (FGV), visited the UNESCO World Heritage town of Ouro Preto--a Brazilian "Gold Rush" town, traveled to Belo Horizonte--the capital of Minas Gerais state, and spent time in Rosario de Limeira, home of the Iracambi Research Center. 
Ouro Preto was a beautiful place, with cobblestoned streets, gold-leafed churches and a soapstone market. In Belo Horizonte we met with government employees who taught us about the city's world famous food security programs. We dined at a "Restaurante Popular" where 13,000 low-cost meals a day are provided to city residents and toured several community gardens, where community members have the opportunity to raise healthy produce for their families and for sales. 
The majority of our stay was in the idyllic forests of Iracambi, a research and conservation nonprofit working with both local Brazilians and international volunteers to improve rural livelihood options while preserving natural ecosystems. 
For both myself and SIS, this class represented many "firsts." It was my first time in South America, acting as a consultant and producing a "deliverable" as a group, and having the opportunity to earn six credits in less than a month. I can whole-heartedly assure everyone--we earned those credits, often by skipping soccer games, bonfires, and nature hikes to do the work. 
For SIS, it was the first opportunity to work with a new international partner, FGV, the Rio de Janeiro-based university whose professors gave us a crash course in Brazilian history and culture. 
We were also the first group of students lucky enough to be brought to Iracambi with Professor Bratman. At Iracambi, we were amazed by what a couple of dedicated people can do. During our time there, we met with dozens of locals who opened up their lives to us. Our interviews were meticulously typed out, read through, and weighed while we wrote our report on rural-urban migration in the area, specifically focusing on local youths. Many of the young people there simply want a good education, a decent job, and a place to hang out on the weekends. These are opportunities that a city is more capable of providing than a rural town. 
We weren't able to come to a firm conclusion or present definitive recommendations in our report because these issues are complex and the "best case scenario" is different for each person we spoke with. Still, we hope our work laid a foundation that others can build on and we expect that the relationships we established will continue to grow.
Read more from Rachel and other participants on the group's blog: http://brazil2014sisabroad.blogspot.com/