International
Spotlight on the Master in International Service Program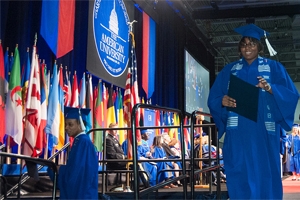 Editor's note: This is the first in an occasional series in which we highlight SIS degrees and programs and interview program directors.
The Master in International Service (MIS) at American University's School of International Service (SIS) offers opportunities to advanced graduate students and professionals in the fields of international affairs and international service. The program connects a rigorous academic education to practical experiences directly relevant to students' professional lives. 
The executive track is designed for students with at least seven years of professional experience in international affairs. The international track is designed for students who are currently enrolled or have recently completed a master's level program in international affairs or a related field at a partner institution. 
We interviewed Dr. Claudia Hofmann, Director of the MIS program. 
CH: I have been director of the program since August 2013. What drew me to the position was the ability to help professionals increase their knowledge about international affairs and help them progress in their career or start a new one, and generally help them to achieve their goals while juggling school alongside their professional and private lives. I am working to provide them with an outstanding executive education that helps them go where they want to go. 
What is the core mission/vision of the program? 
CH: We aim to give mid-career professionals the opportunity to grow and gain expertise in the field of international affairs and international service. We want to equip students with knowledge and skills that are applicable to their professional lives, impart academic knowledge to them, and draw clear connections from this academic knowledge to the world and to their professional lives. The program is individually tailored to the students' career interests and provides practical opportunities to apply knowledge, for example through internship opportunities, practica, skills institutes, and simulations. 
How is the program unique?

CH: It gives students flexibility while they earn an executive degree from one of the top ten international affairs schools in the country. We are also based in Washington, DC, which is a huge advantage for our students. The program allows students to take courses that are supportive of their professional needs and interests. Students can take a wealth of classes at SIS and not be restricted by a concentration. We also waive up to six credits for professional experience already gained internationally. Classes are scheduled later in the day to make it possible to combine studies with a full-time job. The diversity of professional backgrounds makes the student body not only incredibly interesting and knowledgeable, but also a wonderful resource and networking community. 
What are some things your program does to further your students professionally? 
CH: It is important for us to connect an academic degree to applicable knowledge. Many of the faculty are practitioners with a wealth of knowledge in theory and practice that they are here to share. We offer many practica that provide real-world experience in project management and consulting, for example Rural Development in Brazil; Democracy and Human Rights Promotion in Morocco/Jordan; and Cultural Diplomacy and International Exchange. We also host skills institutes for specific skills that might assist students in their professional lives. We have several day long professional development workshops on diplomatic tradecraft and oral presentation skills. 
Describe the students in your program: 
MIS students come from all sectors: private, public, and non-profit. Some places where our students work include embassies, U.S. government agencies, international financial institutions, and leading non-profits. Our students are emerging leaders on the international stage and it is a privilege to have them with us at SIS! 
Learn more about executive degrees at SIS: http://www.american.edu/sis/MIS/index.cfm