International
Professor Focuses on Urbanization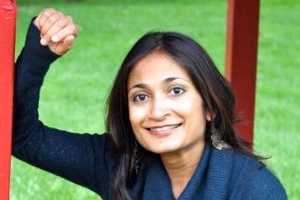 More than half of the world's population lives in urban environments. In 1990, less than 40 percent of the global population lived in a city, but as of 2010, more than half of all people lived in an urban area. By 2050, this will increase to a staggering 70 percent. The bulk of new urban population growth will be in the so-called Global South: Sub Saharan Africa, South Asia, and Latin America.
Malini Ranganathan, an assistant professor at American University's School of International Service and an expert on urban geography, says this new growth brings questions of equality to the forefront of discussions about city planning and development. 
A "Right to the City"
Ranganathan's recent research has focused on Bangalore, a city of more than 10 million people in India, where much of the growth is occurring in the urban peripheries—the outskirts of town, where people are securing claims to urban land through a series of negotiations and adaptions that, while informal in nature, are reshaping the notion of "right to the city." 
The discourse about slums, Ranganathan explains, is limiting and does not recognize informal land tenure. "We are referring to something akin to occupancy urbanism, where people first occupy the space and then start to put in place the mechanisms of livelihood and the infrastructure," she explains. "Many of these occupants might purchase what is initially considered farm land and then through negotiations and forming a relationship with bureaucrats are able to create a sort of an ambiguous ownership, which is in a sense advantageous to both the state and the inhabitants." 
The Power of "Ad-Hoc" Neighborhood Welfare Associations
While homeowner associations in the United States are usually focused on safeguarding property values, the ad-hoc neighborhood welfare associations Ranganathan observed in Bangalore formed to make demands on the state for critical services such as water access and sanitation. "
"The question remains about the extent these lofty goals can stir political action—how can the right to the city be institutionalized and not rely so heavily on tech fixes," says Ranganathan. "This issue is not just an environmental or technical issue, but also a heavily political and social one. It is about social dynamics such as making public transit more accessible, new sustainability initiatives, and providing more affordable housing."

The recognition that inequality is detrimental to overall human wellbeing is a shift away from decades of mainstream development policy. "Urban inequity is now front and center on the urban policy agenda. Inequality is proving to be bad for development, period," she says. 
At SIS, Ranganathan teaches courses in environmental sustainability and global health, urban political ecology, and cities and social justice across the North-South divide. Watch her recent SIS Spotlight video on urban climate change vulnerability and adaptation.