Snapped on Campus
SIS Faculty/Staff Edge Out Students in Annual SIS Softball Game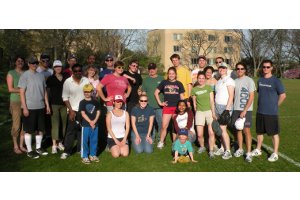 On Saturday, April 18th, School of International Service faculty, staff, and students suited up for the annual SIS softball game on Tenley Field.

Members from all parts of the SIS community (plus spouses and children) took part in the game, in which the faculty and staff team bested the students by just one run. Two home runs - one by a student, and one by Professor John "Manny Ramirez" Kelley, as styled by SIS Dean Louis Goodman - brought cheers from the players and spectators.

Many of the players, who had not grown up with softball or baseball, brought talent honed by cricket and other similar games to the field. Professor Boaz Atzili even noted that given the success of the afternoon, he may just want to change his career. 
Perhaps the Washington Nationals should send out some scouts to next year's game?