Professional News
CRS Professor Publishes Book on Free Trade Agreements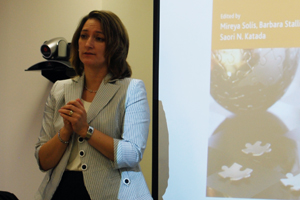 Comparative and Regional Studies Professor Mireya Solís presented her new book, Competitive Regionalism: FTA Diffusion in the Pacific Rim on Monday, September 21, at the East-West Center in Washington, DC. The event was co-sponsored by the Center for Global Partnership.
With her coeditors Dr. Barbara Stallings of Brown University and Dr. Saori Katada of the University of Southern California, Dr. Solís discusses the concept of free trade agreements (FTAs) and their proliferation throughout the Western Hemisphere and Asia. She highlighted the three main questions of the project: What is driving the worldwide explosion of FTAs? Why is it more likely for states to establish a new FTA than join existing ones? Finally, and very importantly, do FTAs unite or fragment a region?
The group's findings indicate that both emulation and competition are dissemination mechanisms at work. "When one very important country moves in one direction, that makes it more likely for others to follow suit," Solís explained. However, she notes, "whoever sets the standard has already won half the battle."
Discussants Dr. Ellen Frost, a visiting fellow with the Peterson Institute for International Economics, Dr. Antoni Estevadeordal, a manager in the integration and trade sector with the Inter-American Development Bank, praised the work for its research and scope. Frost named Solís the "gold standard in [writing about] trade," and Estevadeordal called the book "a very careful examination of what is really at work."
Competitive Regionalism: FTA Diffusion in the Pacific Rim is published by Palgrave Macmillan, and is her fourth publication about free trade agreements.