In the Community
Nobel Prize-Winner Discusses
Nuclear Non-Proliferation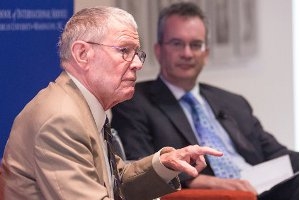 The abhorrence that most governments feel against nuclear weapons has been effective in preventing their use for almost seven decades. This, according to Thomas C. Schelling, is a "partial success" in the search for peace that can be partly attributed to John F. Kennedy's policies.

Schelling, a recipient of the Nobel Memorial Prize in Economic Sciences, joined Dean James Goldgeier for a Dean's Discussion commemorating the 50th anniversary of President John F. Kennedy's "Strategy of Peace" address at AU in 1963. During the April 25 event, Schelling weighed in on the non-use of nuclear weapons, the possibility of a nuclear zero world and the challenge of climate change.

The author of The Strategy of Conflict stated that the "abhorrence that Kennedy epitomized 50 years ago" might be strong enough to prevent the use of nuclear weapons. In the last few decades, he explained, there have been at least eight wars where one side could have used one, but decided not to. And he is certain that this will continue to be the case, even with the continuing threat of a nuclear North Korea.

In light of this widely assumed sentiment, Schelling argued that, today, such a treaty has more of a symbolic significance as a way to reinforce the taboo against nuclear weapons. However, the arguments of those who oppose a ban – that other countries will cheat and that it is important to have an updated nuclear arsenal – have won out against those who favor it.

Schelling added that a world without nuclear weapons "may be possible, but it would be a more dangerous world than it is now." The problem is not just eradicating the weapons, but preventing nuclear mobilization. Nations that today have nuclear weapons could make them again if a major war broke out, he said.

"I think in a world without nuclear weapons, everybody would be alert to the possible need in a crisis not to be too slow in rebuilding nuclear weapons," said Schelling.

Schelling also compared the contemporary challenge of climate change to that of nuclear weapons, because of the cooperation that is needed to solve the problem. He criticized the "absolute stalemate we have had for the last 30 years," and affirmed that eventually the effects of climate change will drive "deniers" to adopt drastic measures to reduce carbon emissions.

To watch the event's video stream, click here.