Communications
Communicating Effectively Across Cultures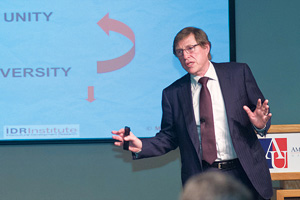 To understand the vital importance of intercultural issues, consider that 80 percent of corporate mergers and acquisitions fail to meet expectations.
Speaking at the 13th Annual Intercultural Management Institute Conference on Inter-cultural Relations, held at AU March 15–16, Milton Bennett, director of the Intercultural Development Research Institute, noted the self-defeating and culturally related behavior that often occurs during M&As.
"What people are not paying attention to is that they're applying this kind of . . . essentially minimization thinking to the merger and acquisition and saying, 'Now that you're a part of us, resistance is futile. It's our way or the highway,'" Bennett said.
"That's done in an unthinking way, and people are not systematically thinking how that is destroying the value which we thought we were acquiring in this acquisition, which is the human capital of a bunch of people who were doing things differently than we were doing. So the reason we're taking this group on is because they're doing something we don't know how to do, but now that they're here they should be like us."
The IMI conference also featured presentations by Motoo Unno of Meiji University ("Cultural Differences in Crisis Communication: One Year after Fukushima") and Dana Priest, Pulitzer Prize–winning journalist from the  ("Top Secret America: The Invisible Legacy of 9/11 and Its Impact on Democracy").
The conference featured two days of sessions, from "Crossing Barriers of Communications and Culture in Traumatized Societies" to "How 'L'Affaire Strauss-Kahn' Illustrates French and American Cultural Differences in the Areas of Romance and Seduction," to "Multinational Best Practices for Managing Across Cultures."
In his speech, Bennett, who originated the Developmental Model of Intercultural Sensitivity and conducts programs on diversity for corporations and educational institutions around the world, acknowledged the difficulties organizations have in dealing with an increasingly global and interconnected world.
"I think what's happened is the complex structure of global organizations has outstripped this intercultural competence they need to manage . . . and by and large folks in these organizations do not have access to sophisticated models of communication," Bennett said.
"They end up reinventing the wheel, and somebody or other is assigned the task of dealing with what do we do about this cross-cultural contact. So they reinvent some simple idea which is completely inadequate to run the vehicle they're trying to attach it to. But they don't know where to look or how to find more sophisticated models."
That is why practitioners in the intercultural field have two obligations, he said. First, they should disseminate models they now have.
Second, they must not only know currently available models, but they also need to develop new models, and know "that what we market as intercultural communication is becoming obsolete as well. The world is changing fast. We have to keep running faster to keep up with it."
IMI, a part of the School of International Service, has more than 50 years of experience in intercultural management and cross-cultural communication. It offers customized training for effective leadership, intercultural communication, and negotiation.