Government & Politics
Wallander Shines Light on Women in Defense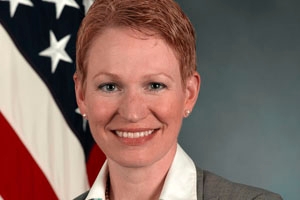 When Dr. Celeste Wallander took a position at the Pentagon in 2008, she found she was in good company. The Department of Defense was, and remains, full of women in positions of authority shaping U.S. defense policy.
Above all else, the Pentagon values expertise, Wallander said. Gender is largely irrelevant. And when Wallander arrived at the Pentagon, she had expertise in spades.
She has served as a senior fellow at the Council on Foreign Relations, as well as the director and senior fellow of the Russia and Eurasia Program at the Center for Strategic and International Studies.
When Wallander served as the Deputy Assistant Secretary of Defense for Russia/Ukraine/Eurasia during the first Obama administration, several of her colleagues were women. One of the more prominent women at the Pentagon was Wallander's boss, Michele Flournoy, former Under Secretary of Defense for Policy. When Flournoy was appointed to the position in 2009, she became the highest-ranking woman at the Pentagon.
Wallander spoke Monday at 6:30 p.m. in the SIS Founders Room about women in defense and security policy, as well as her experience as an adviser to the Obama campaign in 2008. 
Her talk was part of the School of Professional & Extended Studies' Washington Semester Program series American Women: Conversations with AU's Inspirational Women, moderated by AU assistant professor Iris Krasnow.
For Wallander, an associate professor in SIS and director of the International Politics Program, landing in the defense sector was somewhat of a happy accident. As an undergraduate, Wallander thought she would become a lawyer focusing on international law. But then she discovered security and conflict studies, eventually pursuing a master's degree in the field.
"I was interested in how conflicts arise, what is security policy and how security relations affect international relations," Wallander said.
That was in the early 1980s when the Cold War was winding down. Mikhail Gorbachev had just come to power and there was a lot of money to study Russia and the former Soviet states.
Inspired by a professor who specialized in Russia policy, Wallander pursued graduate studies on the region. She then became a professor at Harvard, where she stayed for 11 years.
During her tenure in Cambridge, the Soviet Union broke apart. Suddenly Wallander's work in the field of Russian security studies became all the more valuable as policies had to be drafted to deal with the collapse. Think tanks came calling and Wallander found herself in Washington.
She laughs when she thinks of the serendipitous route her life has taken.
"I have students, especially young women come to me and say I'd like to do what you've done in your life. How can I do it? And I say I have no idea," she said. "I have no idea how you should do it other than get good training, be a serious student, be a good person and invest in yourself. I don't believe you can plan because so much of life is an accident."
If her decision to pursue scholarship on Russian security studies was a pleasant fluke, her work with the Obama campaign was totally unforeseen. While a visiting scholar at Georgetown University, Wallander had the opportunity to help draft the campaign's policy on Russia. But when it was determined that foreign policy was going to take a backseat during the primaries, Wallander got recruited to do good old-fashioned canvassing.
She volunteered for the campaign in crucial states like New Hampshire, Pennsylvania and South Carolina. Wallander found herself making copies and running to the store to get supplies — anything to advance the campaign.
"I always said my greatest asset to the campaign was my Volvo," Wallander joked. "I just did anything they needed because it was important. We had a chance to make history and create a new trajectory for the country."
The newly elected president rewarded Wallander for her service to the campaign with an administration job. She arrived at the Pentagon in the spring of 2009 and worked there until July 2012. She was one of the leaders of the U.S.-Russian effort to find ways to cooperate on a European missile defense program. Those talks ultimately stalled last November.
At the Pentagon, she said, excellence is rewarded without a mind to anyone's gender. That is not the case in security studies in the academy, she lamented.
Wallander's return to higher education is perhaps a step in the direction of gender parity in her field. At least she has a hand in crafting how the field will look in the future. In her role as director, Wallander is coordinating an overhaul of the International Politics program. It will soon be called the Global Governance, Politics and Security program.
"So rather than being a leftover from all our other master's programs, it will have its own defining focus," she said. "It will be global, which is very much what AU's strength is."