International
Activist John Prendergast Highlights Issues in Africa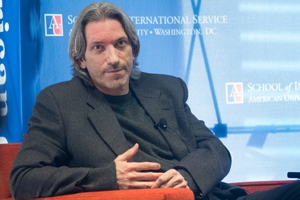 John Prendergast is the human rights activism equivalent of a rock star. His salt and pepper hair falls nearly to his shoulders. 
He works with A-list celebrities like George Clooney, Brad Pitt, Matt Damon, and Don Cheadle. He doesn't wear a tie. And he makes things happen.
As the co-founder of the Enough Project, a nonprofit affiliated with the Center for American Progress dedicated to ending genocide and crimes against humanity in Africa, Prendergast has supported education initiatives in Darfur, rape prevention in the Democratic Republic of Congo, and satellite imagery analysis to deter war between Sudan and South Sudan.
Prendergast's list of accomplishments in Africa is long. After receiving his master's degree from the School of International Service in 1990, Prendergast has been involved in just about every major humanitarian and political concern in Africa. He sat down with SIS Dean James Goldgeier on Monday to talk about current issues on the continent as a part of the Dean's Discussion series.
During the hour and a half discussion, Prendergast answered questions about the value of non-governmental organizations and their work in Africa; positive developments in places like Sudan/South Sudan; and conflict minerals and procurement policies.
He said that the international community needed to address the "economic drivers" of war in Africa. In the case of Congo, that financial motivator is the profit made from the mining industry. Four minerals — gold, tantalum, tin and tungsten — go into making many electronic devices and are in high demand. By addressing demand for minerals that are mined in conditions of armed conflict and human rights abuses, the situation can become more stable, Prendergast said.
Part of the solution, Prendergast explained, is openness about a company's supply chain.
"We're inching forward to create a level of transparency for companies manufacturing and selling products," Prendergast said.
He recommended the creation of some sort of profit incentive to get companies to forego using conflict minerals in their products. He drew a parallel to the Kimberley Process, a certification system to prevent blood diamonds from entering the mainstream market.
If companies can't sell their products in the United States because the country has laws in place barring the importation of goods sourced with conflict minerals, they will be less likely to support that industry. Prendergast also encouraged the creation of a labeling system similar to Fairtrade that would let consumers know which products were made with conflict-free minerals.
For as long as he can remember, Prendergast has been an activist.
In the 1980s, he boycotted companies that had dealings with the South African Apartheid government. He supported divestment from South Africa and stood in solidarity with South Africans fighting for the dismantling of their country's racist policies.
Since then Prendergast has participated in numerous efforts to promote human rights and conflict resolution in Africa. He helped broker peace between Ethiopia and Eritrea in 2000. He worked to achieve nationhood for South Sudan. Lately, he's been promoting responsible mineral mining in places like Congo.
Prendergast is no stranger to the American University campus. In 2009, Prendergast delivered the SIS Commencement speech and in 2012 SIS awarded him its Alumnus of the Year honor. He is also the recipient of an honorary Doctor of International Affairs degree from AU.
"We're very proud John is an alum and we're grateful for the work he does, particularly in Africa," Goldgeier said.
He regularly pens opinion pieces for publications like the New York Times, the Washington Post, and Foreign Policy, among others. He's a sought-after speaker and he was once a guest on the Colbert Report, where host Stephen Colbert grilled Prendergast on the origin of the South Sudanese flag.
Over the years, Prendergast has also been able to marshal support from celebrities like actors Ryan Gosling and Julianne Moore, and L.A. Lakers star Derek Fisher. He told the crowd Monday that celebrities are key to building a successful international human rights campaign. Harnessing social media, multimedia, and student activism were also critical, he said.
"That's how a movement starts," Prendergast said.
Before the discussion ended, Prendergast imparted some valuable advice to the students in the crowd. It was advice he had clearly followed.
"If you are committed to things you care about," he said, "you have no idea how many doors will open to you."