Norwegian University of Life Sciences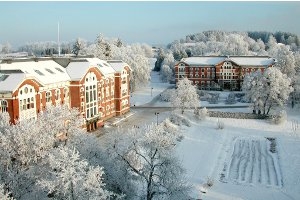 Over the course of its 150-year history, the Norwegian University of Life Sciences (NMBU) has developed from an agricultural school in 1859 into the hub of expertise in life sciences, environmental sciences and sustainable development that it is today. NMBU offers a number of English-language graduate programs focused on food sciences, development, and environmental studies. Located outside of Oslo in the picturesque village of Ås, NMBU boasts a spectacular 150-acre arboretum.
Coursework
Graduate students from AU who participate in this one-semester program enroll for a full courseload at AU (9 credits) and take courses alongside the regular degree-seeking student population at NMBU. Students should expect to enroll for a full semester courseload of 30 NMBU (ECTS) credits while at NMBU. Students can choose courses from among the various graduate-level programs at NMBU. Programs of study that are taught in English at NMBU include:
Agroecology
Aquatic Food Production - Safety and Quality
Animal Breeding and Genetics
Aquaculture
Bioinformatics and Applied Statistics
Development and Natural Resource Economics
Economics
Feed Manufacturing Technology
International Development Studies
International Environmental Studies
International Relations
Plant Science
Radioecology
Students who participate in the Program in the Spring semester have the opportunity to conduct research alongside degree-seeking NMBU graduate students in a third country during the month of June. The research venue is determined each year by NMBU. The trip is fully funded by NMBU. 
N.B.: The summer research component is not for credit within the SIS Semester Abroad Program at NMBU. Students who wish to register the summer research for research credit during AU must consult their academic adviser and register under normal AU guidelines.
Language Requirement
As the majority of graduate-level NMBU courses are conducted in English, proficiency in Norwegian is not required for participation in the Program. English is widely spoken in Norway.
Academic Calendar
Fall: August - December
Spring: January - May
The summer research trip typically takes place in June.

Registration
Students are required to meet with their AU academic adviser and obtain formal pre-approval for NMBU courses before enrolling at NMBU. This ensures that all credits earned on the Program can be applied toward the student's AU degree.

Once accepted into the Program, students are registered through the SIS Office of International Programs for 9 AU-Norway NMBU exchange credits (SIS-775). These exchange credits cover the Program credits only; research and/or internship credits are registered under normal AU guidelines.

Students will be expected to enroll in 30 NMBU (ECTS) credits per semester at NMBU.
Credit articulation: Grades and credits earned at NMBU are articulated through the SIS Office of International Programs upon receipt of an official transcript from NMBU. For conversion purposes, students should expect 2 NMBU (ECTS) credits to equal 1 AU credit.
Tuition and Fees
Students pay regular tuition, emergency international health insurance, and technology fees to AU. Students do not pay the student activity fee, sports center fee, or SIS fee while studying at NMBU.  

Students are responsible for any incidental costs, such as library fines and lab fees, incurred during the program. Students are responsible for all personal expenses including housing and transportation.
Housing
Students are responsible for making their own housing arrangements and for all associated costs. Once admitted to NMBU, students can apply for housing through NMBU.
Visas and Immigration
Once admitted to the Program, students are issued a letter of acceptance by NMBU. Students use this document to apply for their student visa at the nearest Norwegian embassy or consulate. Students are responsible for researching the most up-to-date immigration requirements and arranging all immigration documents. NMBU provides guidance on how to obtain such documentation.
Student Orientation
During the semester prior to the start of the Program, the SIS Office of International Programs conducts a mandatory pre-departure meeting. Topics covered include administrative, logistical, security, and cross-cultural issues. NMBU holds an orientation at the beginning of each semester, which students are strongly encouraged to participate in.
How to Apply
NB: Students who wish to participate in this program must first submit an internal SIS application to the SIS Office of International Programs. Students may not submit any applications or documents to NMBU until after they have received instructions from SIS.
Complete and submit the SIS Semester Abroad Program at NMBU application to the SIS Office of International Programs by the application deadline. Do not apply directly to NMBU.

After applications are processed and reviewed, students are selected for nomination to NMBU.

Upon nomination, students must complete and submit the NMBU application for exchange students. The application process also includes submission of a list of the courses students wish to take at NMBU, an official graduate transcript from AU, and a copy of the student's passport information page.

NMBU makes the final admissions decision and corresponds directly with Program participants regarding course registration, accommodation, orientation programs, etc.

The Program is competitive, and applying does not guarantee admission.