Koç University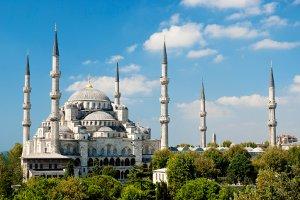 Koç University, located in Istanbul, Turkey, is one of the leading universities in the country, distinguished by contributions to education, knowledge, and service, both domestically and internationally. The university responds to a growing need for focused graduate programs in International Relations, offering students thorough training for careers in research, politics, foreign policy and business. 
The University's mission statement reads, in part, "students acquire the intellectual courage to inquire and question while developing the character necessary to serve as custodians of democratic values and freedom. Guided by the highest standards of academic and interpersonal development, the institution collectively imparts the critical thinking necessary to analyze knowledge, the creativity to nurture and surpass this knowledge and the curiosity for lifelong learning."
Coursework
Graduate students from AU can enroll at Koç for one semester. Students must take a full courseload at Koç and can earn up to 9 credits toward their AU degree.

Subject areas at Koç include:

Globalization and International Relations Theory
Comparative Politics
Turkey and the Global Political Economy
Issues in Turkish Politics
International Political Economy
Politics of European Integration
Europe in the Global Context
Anatolian Civilization and Cultural Heritage
Students may also have the opportunity to participate in research projects with Koç faculty members on a non-credit bearing basis.

Language Requirement
All classes are conducted in English.

Academic Calendar
Fall: mid-September - mid-January
Spring: February - May
Due to the differences between the AU and Koç academic calendars, students are encouraged to participate in the program in the spring semester.
Registration
Students are registered through the SIS Office of International Programs for up to nine (9) AU-Koç exchange credits (SIS-771). These exchange credits cover the Program credits only; research and/or internship credits are registered under normal AU guidelines. NB: Students must carry a full courseload of 9 AU credits while studying at Koç.
Students are required to meet with their AU academic advisor and obtain formal pre-approval for courses they wish to take through the Program before enrolling at Koç. This ensures that credits earned on the Program can be applied toward the student's AU degree.
Students pre-register for Koç courses via an online portal prior to the start of the semester and then meet with their assigned advisor at Koç to confirm their courses.
Tuition and Fees
Students pay regular tuition, emergency international health insurance, and technology fees to AU. Students do not pay the student activity fee, sports center fee, or SIS fee while studying at Koç University.  

Students are responsible for any incidental costs, such as library fines and lab fees, incurred at Koç during the program. Students are responsible for all personal expenses including housing and transportation. Students should expect to pay for museum entry fees and lunch during arrival orientation at Koç. In addition, students must pay the residence permit fee which is approximately $100 (USD).

Housing
All the grad students are placed in apartments on West Campus designed for grad students (2 km from main campus). The room includes a bed, desk, wardrobe, and bedside table. Each bathroom is shared by 4 students. Each floor has shared kitchens. A free shuttle runs between main campus and the graduate apartments.
Visas and Immigration
Once admitted to the Program, students are issued a letter of acceptance by Koç. Students use this document to apply for their student visa at the nearest Turkish embassy or consulate.Consular information can be found through the Turkish Ministry of Foreign Affairs website.

Student Orientation
During the semester prior to the start of the Program, the SIS Office of International Programs conducts a mandatory pre-departure meeting. Topics covered include administrative, logistical, security, and cross-cultural issues. Koç also holds orientation events in the week before classes begin each semester. Orientation activities include Survival Turkish classes, Koç University Academic Information System training sessions, activities with student clubs (such as volleyball, football, basketball tournaments), an Istanbul city tour, brunch in a traditional village nearby, an ice skating party, etc.

How to Apply
Complete and submit the Program application to the SIS Office of International Programs by the application deadline. Do not apply directly to Koç.
After applications are processed and reviewed, students will be selected by SIS for nomination to Koç.

Upon nomination, students will be directed to the Koç website to upload supporting documents and information. The process includes submission of a scanned ID photo, a scanned copy of the student's passport information page, and an official graduate transcript from AU.

Koç makes the final admissions decision and corresponds directly with Program participants regarding course registration, orientation programs, etc.

The Program is competitive, and applying does not guarantee admission.