St. Petersburg University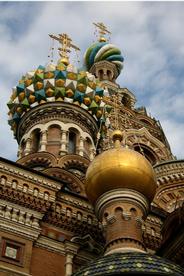 St. Petersburg University, the oldest university in Russia, was founded by Peter the Great in 1724 as part of his educational and modernization reforms. Having remained a foremost center of learning despite the political turmoil throughout the country's history, the University now features seven Nobel Prize winners among its faculty and feature Vladimir Putin, Dmitry Medvedev, and Vladimir Lenin among its alumni. The School of International Relations (SIR) at St. Petersburg University is a member of the Association of Professional Schools of International Studies (APSIA) and boasts over 1,000 full-time faculty who teach its 1,000-plus students. With over 200 exchange and internship programs with international universities, SIR is uniquely poised (indeed, given its location on the Baltic Sea) to connect St. Petersburg and Russia at large with the rest of the world.
Coursework
Graduate students from AU who participate in this one-semester program enroll for a full courseload at AU (9 credits) and take courses alongside the regular degree-seeking student population at St. Petersburg University's School of International Relations (SIR). Students can choose from among a broad range of course offerings across the different schools, as long as they can demonstrate that they have met any stated academic prerequisites. Specific programs of study within SIR include:
Programs in English:
Programs in Russian:
International Humanitarian Links
World Politics
Theory of International Relations and Foreign Policy Analysis
History of International Relations
International Cooperation in the Sphere of Environment and Development
Diplomacy of the Russian Federation and Foreign States
European Studies
Baltic and Nordic Studies
Pacific Region Studies
American Studies
CIS Studies
Strategic Studies
Language Requirement
There is no language requirement for AU students who wish to take courses in the International Relations program, as English is the language of instruction. Students who wish to take any academic courses conducted in Russian are required to demonstrate proficiency in Russian as part of the application. Students also have the opportunity to take beginner-level Russian language courses to improve their language skills without incurring additional costs.
Academic Calendar
Fall: September - late January
Spring: February - late June

Registration
Students are registered through the SIS Office of International Programs for up to 9 AU-St. Petersburg University exchange credits (SIS-774). These exchange credits cover the Program credits only; research and/or internship credits are registered under normal AU guidelines.
Students are required to meet with their AU academic advisor and obtain formal pre-approval for courses they wish to take through the Program before enrolling at SIR. This ensures that credits earned on the Program can be applied toward the student's AU degree.
At SIR, students will be expected to enroll in a full-time course schedule.
Credit articulation: Grades and credits earned at SIR are articulated through the SIS Office of International Programs upon receipt of an official transcript from SIR. For conversion purposes, students should expect 2 SIR credits to equal 1 AU credit. The grading scale used at SIR is different from that used at AU and will be explained to students prior to their departure.
Tuition and Fees
Students pay regular tuition, emergency international health insurance, and technology fees to AU. Students do not pay the student activity fee, sports center fee, or SIS fee while studying at SIR.  Students are billed directly by SIR for housing (if applicable).

Students are responsible for any incidental costs, such as library fines and lab fees, incurred during the program. Students are responsible for all personal expenses including housing and transportation.
Housing
Residence hall housing is available through SIR on a limited basis.  Students who wish to stay in a residence hall should submit SIR's residence hall application form with their other application materials. Students are responsible for locating and paying for their own housing for the duration of their stay in St. Petersburg.
Visas and Immigration
Once admitted to the Program, students are issued a letter of acceptance by SIR. Students use this document to apply for their student visa at the nearest Russian embassy or consulate. Students are responsible for researching the most up-to-date immigration requirements and arranging all immigration documents.
Student Orientation
During the semester prior to the start of the Program, the SIS Office of International Programs conducts a mandatory pre-departure meeting. Topics covered include administrative, logistical, security, and cross-cultural issues. Students will be provided with orientation materials upon arrival at SIR.
How to Apply
Complete and submit the Program application to the SIS Office of International Programs by the application deadline. Do not apply directly to SIR.

After applications are processed and reviewed, students are selected by SIS for nomination to SIR.

Upon nomination, students must complete and submit the SIR non-degree student application. The application process also includes an official graduate transcript from AU and a copy of the student's passport information page.

SIR makes the final admissions decision and corresponds directly with Program participants regarding course registration, accommodation, orientation programs, etc.

The Program is competitive, and applying does not guarantee admission.