Victoria University of Wellington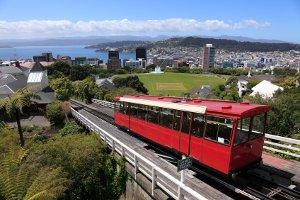 Victoria University of Wellington uses four campuses to forge a tradition of strong international links in teaching and research and programs of national significance and international quality. VUW boasts a vibrant student body comprised of a diverse population of both domestic and international students, including many students from around the South Pacific region. Situated in New Zealand's capital city, the University offers a wealth of educational and social opportunities.

Coursework
Graduate students from AU can enroll at VUW for one semester. Students must take a full course load at VUW and can earn up to 9 credits toward their AU degree.

Subject areas at VUW include:

Asian Studies
Biological Sciences (Marine Conservation, Ecology, Biodiversity, Conservation Biology)
Criminology (Gender and Crime, Race and Crime, Trends in Risk Management)
Cultural Anthropology
Economics
Environmental Studies
Film and Media Studies
International Business
International Law
Political Science and IR (Politics of Migration, Human Security in SE Asia, Global Governance)
Public Administration and Management
Graduate-level courses at VUW are listed at 400-level ("Honours") and above.
Students may also have the opportunity to participate in research projects with VUW faculty members on a non-credit bearing basis.

Language Requirement
All classes are conducted in English.

Academic Calendar
Trimester 1: March – July

Trimester 2: July – November

Registration
Students are registered through the SIS Office of International Programs for up to nine (9) AU-VUW exchange credits (SIS-773). These exchange credits cover the Program credits only; research and/or internship credits are registered under normal AU guidelines. NB: Students must carry a full course load of 9 AU credits while studying at VUW.

Students are required to meet with their AU academic advisor and obtain formal pre-approval for courses they wish to take through the Program before enrolling at VUW. This ensures that credits earned on the Program can be applied toward the student's AU degree.
Students pre-register for VUW courses via an online portal prior to the start of the semester and then meet with their assigned advisor at VUW to confirm their courses.
Tuition and Fees
Students pay regular tuition, emergency international health insurance, and technology fees to AU. Students do not pay the student activity fee, sports center fee, or SIS fee while studying at VUW.  


Students are responsible for any incidental costs, such as library fines and lab fees, incurred at VUW during the program. Students are responsible for all personal expenses including housing and transportation. Students should expect to pay for Student Safe University Policy and Student Levies.

Housing
Due to a housing shortage, students studying during trimester 1 only will have difficulties finding VUW accommodation. An additional 10% fee is charged for accommodation for these one semester only students. Students studying in trimester 2 only will have a better chance of getting VUW housing. Students who apply for housing at VUW but do not get places will be allocated temporary housing until they can secure private accommodation. 


Other housing options include VUW's homestay program or private accommodations.

Visas and Immigration
The Immigration New Zealand website has all the information about applying for a student visa, including the location of your nearest Immigration New Zealand branch and the requirements applicable to your home country.
VUW strongly recommends that students refer to the processing times for the branch to which they will submit their application. Students must allow enough time for the visa application to be processed and approved. Students will not be able to study at the University until they have a valid student visa.

Student Orientation
International Orientation is compulsory for all first time to VUW international students. Students will not be allowed to complete enrollment without attending International Orientation.


Orientation is a day which includes presentations on the university's academic and support services, cultural adjustment and information about Wellington and New Zealand. In addition to the presentations, there will be campus tours, and other events during the week. International Orientation also includes an expo where students learn more about what VUW has to offer.
The day after International Orientation is the enrollment day. Students will attend an enrollment briefing to find out more about the enrollment procedures and processes for their specific program of study. Following International Orientation and Enrollment is the university-wide orientation for all new and international students to the university, New Zealand. The university-wide orientation is not compulsory to attend. Getting involved in the main university orientation is a great way to meet New Zealand students.

How to Apply
1. Complete and submit the Program application to the SIS Office of International Programs by the application deadline.

2. After applications are processed and reviewed, students are selected by SIS for nomination to VUW. Once nominated, students are directed to the VUW website to upload supporting documents and information.
3. VUW makes the final admissions decision and corresponds directly with Program participants regarding course registration, orientation programs, etc.
The Program is competitive, and applying does not guarantee admission.