Peruvian Diplomatic Academy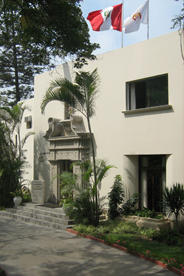 The Peruvian Diplomatic Academy (PDA) was founded in 1955 as a center of education and training for Peru's Ministry of Foreign Affairs. The Academy's fundamental purpose is to train those entering the diplomatic service of Peru, and it represents the only point of entrance into the country's diplomatic corps. Because of its imperative mission, the curriculum at PDA is highly specialized in the areas of diplomacy and international affairs and requires nothing but the highest levels of performance from its students. The AU-PDA partnership is the first of its kind for both AU and PDA and offers AU students the unique opportunity to study with up and coming diplomats. Study in Peru to gain rare insight into international affairs.
Coursework
Graduate students from AU who participate in this one-semester program enroll for a full courseload at AU (9 credits) and take courses alongside the regular degree-seeking student population at PDA. Students will attend classes Monday – Friday, 8am – 6pm, with a break allotted for lunch. Students are required to attend extra-curricular events and talks as scheduled.
Subject areas at PDA include:
Public International Law
Diplomatic History of Peru
International Relations
International Organizations
Economy of Peru
Students may choose from among both first and second year course offerings at PDA, subject to approval by PDA based on students' AU coursework and academic background.
Students also have the opportunity to take non-credit French and Portuguese language courses to improve their language skills without incurring additional costs.
Usually in September and October, PDA students travel to one or more interior provinces of Peru. The purpose of this trip is to improve their knowledge of the political, economic and social reality of the places they visit; contribute to the spirit of cooperation and camaraderie among the students; and strengthen their organizational skills, analysis and self assessment. This trip is an integral part of the PDA experience, and AU students are encouraged to participate.
Students must be in the second year of their Master's program at AU by the semester they plan to study at PDA in order to be eligible to apply to this program.
Language Requirement
PDA is a Spanish-language institution, and all courses and fieldwork will be conducted in Spanish. AU students who wish to participate in the program must demonstrate proficiency in Spanish at a high intermediate level at the time of application and are encouraged to reach advanced proficiency before enrolling at PDA. Students are required to submit a language assessment as part of the application.

Academic Calendar
First semester: April - July
Second semester: August - December
The PDA academic calendar begins in April and ends in December. Students who enroll at PDA during AU's fall semester (in August) are encouraged to participate in one of the fall research trips.
Registration
Students are registered through the SIS Office of International Programs for 9 SIS credits. These exchange credits cover the Program credits only; research and/or internship credits are registered under normal AU guidelines.
Students are required to meet with their AU academic advisor and obtain formal pre-approval before enrolling at PDA. This ensures that all credits earned on the Program can be applied toward the student's AU degree.
At PDA, students will be expected to enroll in a full-time course schedule.
Credit articulation: Grades and credits earned at PDA are articulated through the SIS Office of International Programs upon receipt of an official transcript from PDA. For conversion purposes, students should expect 1 PDA credit to equal 1 AU credit. The grading scale used at PDA is different from that used at AU and will be explained to students prior to their departure.
Tuition and Fees
Students pay regular tuition, emergency international health insurance, and technology fees to AU. Students do not pay the student activity fee, sports center fee, or SIS fee while studying at PDA.
Students are responsible for any incidental costs, such as library fines and lab fees, incurred during the program. Students are responsible for all personal expenses including housing and transportation. As PDA requires that all students wear a uniform, students are also responsible for obtaining white shirts, grey slacks, and navy blue blazers to attend classes and events at PDA.
Housing
Students are responsible for their locating and paying for their own housing for the duration of their stay in Lima.
Visas and Immigration
Once admitted to the Program, students are issued a letter of acceptance by PDA. Students will enter Peru on a tourist visa and then will use this document to apply for their student visa once in country. Students are responsible for researching the most up-to-date immigration requirements and arranging all immigration documents.
Student Orientation
During the semester prior to the start of the Program, the SIS Office of International Programs conducts a mandatory pre-departure meeting. Topics covered include administrative, logistical, security, and cross-cultural issues. At PDA, students will be welcomed with the incoming class and provided with orientation materials.
How to Apply
Complete and submit the Program application to the SIS Office of International Programs by the application deadline.

After applications are processed and reviewed, students are selected by SIS for nomination to PDA. The application process also includes two passport-size photos, a copy of the student's passport information page, two academic letters of recommendation, official transcripts from all undergraduate and graduate institutions attended, and a letter from a language professor certifying proficiency in Spanish. 

Students selected for the Program will be required to interview with the Ambassador at the Peruvian embassy.

The Program is competitive and applying does not guarantee admission.