Alumni Success Story
Documenting Darfur: One Alumna's Journey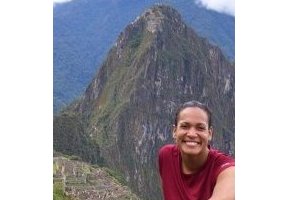 MA, International Peace and Conflict Resolution, 2007
In June of 2005, Aisha Bain joined Global Rights: Partners for Justice as the Asia, North Africa, and Eastern European Program Officer. She worked on women's rights in India and the Maghreb, anti-discrimination in the Balkans, and environmental rights in Mongolia. In this capacity, she plans, designs and supports the implementation of projects that strengthen civil society's ability to form the strategies and tactics they need to further advance the protection of human rights and greater access to justice at the local and national levels.
Before joining Global Rights, Bain co-founded a project through which she traveled independently to Eastern Chad and Darfur to document the human rights abuses in those countries and to create an awareness campaign. The documentary she created, Darfur Diaries: Message from Home, has received awards and wide acclaim. Bain is also co-author of Darfur Diaries: Stories of Survival, a book depicting the journey of making the film. Currently, the film and book donate their proceeds to build schools in North Darfur in partnership with the Darfur Peace and Development Organization.
Bain previously served as Deputy Director at the Center for the Prevention of Genocide where she worked extensively investigating and reporting the massacres in Darfur and Northern Uganda, lobbying for international action. She was also a research analyst for Project Hope International (PHI) and conducted extensive field research in Southeast Asia on human trafficking, and she volunteered in Lebanon during the war of 2006. She currently serves on PHI's Board of Directors.
Bain obtained her bachelor's degree from Boston College. She speaks English, French, and Malagasy, and has a working knowledge of Spanish and Arabic. Perhaps most fittingly, she is a recipient of the Peacemaker Award from American University.