Alumni Success Story
Alumni Highlight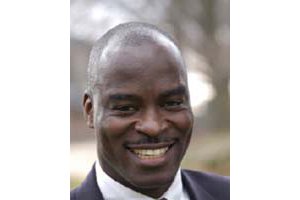 Ebenezer Mainlehwon Vonhm Benda (MA IPCR '04) came to the United States as a refugee displaced by the civil war in Liberia. After receiving a scholarship, he was able to graduate from Edison Community College in Punta Gorda, Florida and obtain a Bachelor of Arts Degree in International Affairs from Florida State University. He then came to American University to obtain a Master's Degree in International Peace and Conflict Resolution. While a student in IPCR, Ebenezer wrote a thesis entitled "Internationalized Civil Wars: Liberia: a Case Study," about how civil wars are not really civil because of the numerous external actors. He showed that external actors who contribute to the conflict are also integral to resolving it. The dynamic faculty of the IPCR program who live their work partially influenced Ebenezer's decision to return to Liberia to pursue peace education.
Ebenezer returned to Liberia in 2005 and helped to establish a relief organization called Aid for the Needy Development Programs (ANDP), whose goal was to provide people in internally displaced person (IDP) camps with nutritional supplements to fight off malnutrition. ANDP worked with the UN Development Program, UNICEF, and UN World Food Programme. ANDP was able to get funding from these UN agencies and a French organization called Action Against Hunger. Ebenezer will be returning to Liberia again in March 2009 to add a Center for Peace Education to ANDP. Ebenezer's goal is to establish peace education in schools all over Liberia as a means of "planting seeds of peace to harvest a peaceful tomorrow."
This article was originally published in the Spring 2009 International Peace and Conflict Resolution Newsletter.