Alumni Success Story
EPGA Alumna Working with Doctors Without Borders in India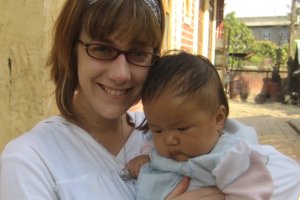 With a degree in Ethics, Peace and Global Affairs (EPGA) and years of experience as a pediatric nurse, Michelle Mays, KSB/MA '08, has begun a year-long position with Doctors Without Borders/Medecins Sans Frontieres (MSF) with plenty of tools in her toolbox.  Michelle is working in Manipur, India, where there is a long-standing multi-faceted conflict.  As a nurse, she has joined a team of international staff who work closely with a large number of local staff on multiple issues, including HIV, TB, maternal child health, mental health, and other basic health care needs.

Michelle cites the coursework she completed in the EPGA program as invaluable in anticipation of her new job, having better prepared her to work cross-culturally in a complex conflict context.  Additionally, several international trips also provided opportunities to connect what she was learning in the classroom to conflicts around the world and helped prepare her for her current position in India.  During her two years in the program, Michelle traveled to Bosnia on a human rights delegation, conducted research in Israel and Palestine, and spent time in India with a medical team.

She also capitalized on her time in the program by getting involved in several student-led organizations that provided opportunities for skill building and networking within and beyond the AU community.  During her two years in the EPGA Program, Michelle held leadership roles in the Society for Ethics, Peace, and Global Affairs as well as the Society for Peace and Conflict Resolution.  Through these positions, she created workshops on navigating job hunting in the field, services opportunities, and community building projects at AU and with students in similar programs throughout the DC area.  She also facilitated dialogue groups on religion and politics with the Dialogue Development Group, worked as a Graduate Assistant for Professor Abu-Nimer, and completed her EPGA M.A. with a concentration in peace and conflict resolution.  For her commitment to human rights, she received the Brady Tyson Award from the School of International Service.  She is now enjoying spending an entire year in a community, a contrast to her previous trips abroad, which ranged from a few weeks to a few months.