Capstone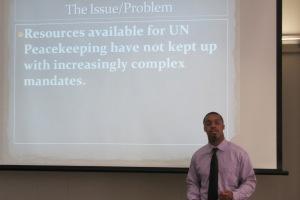 Steven Rocker presents his research at the U.S. Foreign Policy Capstone Research Conference.
As a part of the U.S. Foreign Policy and National Security degree requirements, all students must complete a student research requirement as their capstone. Students who have entered the Program since Fall 2012, or those who have opted into the new Master's requirements, are able to choose from three different options to fulfill their capstone: the practicum, substantial research paper, or Master's thesis.
The practicum is intended to act as a bridge between the academic setting with its emphasis on individual research and writing and the professional world where many analytical work products are produced by teams. Students use the methods, analytical skills, familiarity with the political process, and substantive knowledge that they have learned in the first year of the Master's program to analyze a challenging policy issue with the goal of devising, through a team effort, useful and realistic policy recommendations.
The overall purpose of a master's thesis or substantial research paper (SRP), on the other hand, is for Master of Arts students to satisfactorily complete serious and sustained research and writing, based on analysis of both secondary and primary source material, that is, existing literature and the collection of data. The SRP or thesis involves the student working closely with a faculty member who provides supervision for the project. The SRP also includes a presentation component.
Visit the Practicum, SRP, and Thesis pages for more information and examples of past U.S. Foreign Policy and National Security students' research. Additional samples of student research, as well as guidelines for the SPR, Capstone Conference, and Practica can be found on the Quick Links box in the upper right-hand corner of this page.