Journalism
Bridging the Gap Between Classroom and Craft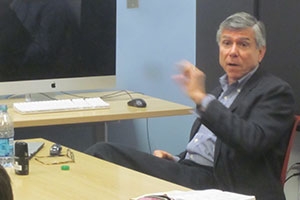 Film and Media Arts Professor and journalist in residence Bill Gentile hosted photojournalist Robert Nickelsberg during his Foreign Correspondence class.

Nickelsberg discussed his 2013 book "Afghanistan: A Distant War" while showing photographs he took throughout his 25 years of reporting for TIME Magazine. Each photograph would be put in context about what was going on during the time and the difficulties of photographing war zones.

Following his presentation, Nickelsberg answered questions from students. Questions ranged from how to be sensitive to photo subjects such as Taliban members, to what cameras work the best for a photojournalist like Nickelsberg.

Gentile, also the director of the Foreign Correspondence Network and the Backpack Journalism Project, was eager to have Nickelsberg speak to his class about reporting abroad.

"Nickelsberg's visit allowed my students a unique and privileged insight to how one man and his work can impact the global perception of an entire nation and her people, and how that nation and her people can impact the life of that one man," Gentile said.

For Gentile, exposing his students to this type of first-person perspective is important.

"I routinely bring friends and colleagues from the field into my classes, as these professionals help me build the bridge for students between the classroom and the real, everyday world of work in our craft," Gentile said. 
"These guests include veteran photojournalists like Nickelsberg, foreign correspondents like the McClatchy Group bureau chief in Baghdad, New York Times Cairo correspondent, and the head of the video department of USA Today."