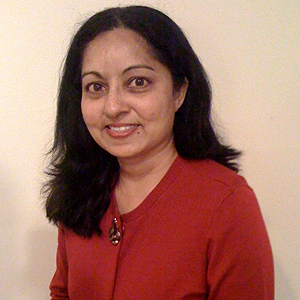 Vandana Mathur
Sr Adjunct Professorial Lecturer
School of Communication
Vandana Mathur is an adjunct professor of Journalism. An alumni of American University's School of Communications, she has  been a journalist in the Washington, D.C., area for more than 20 years. She started out her career in journalism as an editor at McGraw-Hill Publications, then later became a congressional correspondent for ABC/Capitol Cities Publications and for the Bureau of National Affairs, which is now Bloomberg BNA. After a brief stint as an editor at Kiplinger publications, she worked for several years as a Web editor for the International Finance Corporation, part of the World Bank Group. She is now back at  Bloomberg BNA, where she is a copy editor for a publication that specializes in tax, accounting, and budget issues. She also continues to work for the IFC as an editorial consultant.

Loading ...

FOR THE MEDIA

To request an interview for a
news story, call AU Communications
at 202-885-5950 or submit a request.
Teaching
Summer 2015

COMM-200 Writing for Communication
Fall 2015

COMM-100 Understanding Media