Certificate Program in
Game Design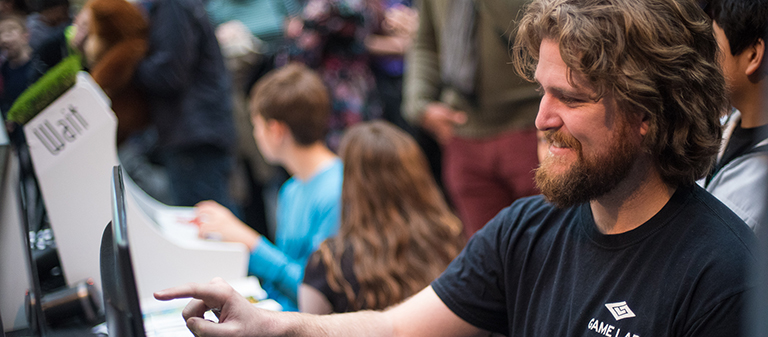 With more than $60 billion in annual revenue, the game industry is bigger than Hollywood and almost surpasses the music industry. Washington, DC is constantly ranked as one of the top cities for new job seekers. At the crossroads is American University Game Lab.
Create and code your way into a new career path with a certificate in game design. It's the perfect opportunity for those who want to use games as a platform for something greater.
The game design certificate program combines game design and game development, merging the strengths of the AU School of Communication and the AU College of Arts and Sciences. It is crafted to develop the intellectual capacity of students as designers, developers, critics, and leaders.
Games in New Contexts
Game design certificate students bring to the program their own experiences and passions - politics, science, art, history, international studies - and marry them to game design skills and concepts to develop new approaches to business challenges.
Students benefit from one on one interactions with program faculty, led by director Lindsay Grace, an internationally exhibited game artist and designer in Critical Game Play.
Courses Include: 
Game Design
Games and Society
Game Rhetoric
3D Animation
Intro to 3D Static Modeling
Principles of Strategic Communication
155 million Americans play video games
2.5 billion dollars in revenue by video game industry in 2015
30% projected increase in employment for game design careers for 2018
DC Loves Games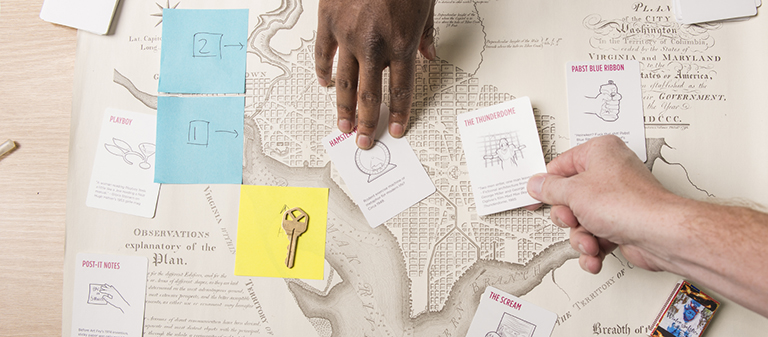 A hub for entrepreneurs and federal agencies, Washington, DC offers game design students unparalleled access to private and public sector opportunities. 
Take advantge of AU Game Lab's relationships with government agencies, locally based comapines and not-for-profits alike. 
The certificate program is also an entry into the game design master's degree program.
FAQ
The Game Lab Studio is part of the American University Game Lab, which serves as a hub for professional education, persuasive play research, and practice. Students get hands-on experience that includes working with clients to develop games that will engage and influence around a campaign, concept, or brand. Clients include Educational Testing Service (ETS), the National Institute of Mental Health (NIMH), and the Smithsonian American Art Museum (SAAM).
Yes. Students have addressed diverse topics such as mental health, social justice, journalism, politics, money management, and advertising. The program can lend itself to your particular area of interest.
Certificate Requirements
15 credit hours of approved coursework with grades of B or better. Grades of B- or lower in certificate program courses will not be accepted toward the fulfillment of certificate requirements although these grades will be included in the calculation of the cumulative grade point average. Students must have at least a 3.0 grade point average in certificate courses in order to be awarded a certificate.
Core (12 credit hours)
GAME-605 Games and Society (3)
GAME-610 Game Research Methods (3)
GAME-615 Game Development (3)
GAME-620 Games and Rhetoric (3)
Electives (3 credit hours)
Complete 3 credit hours from the following or other non-GAME courses as approved by program director:
COMM-640 Principles of Strategic Communication (3)
GAME-601 Game Design and Art Pipeline Production (3)
GAME-612 Digital Art Tools and Techniques (3)
GAME-625 Advanced Game Development (3)
GAME-672 Introduction to 3D Static Modeling (3)
GAME-682 3D Animation (3)
GAME-690 Independent Study in Game Design (1-6)
GAME-696 Selected Topics: Non-Recurring (1-6)
EDU-642 Training Program Design (3)